Sakura Season is Coming!
As we wrote an article before, Japanese people have our own way of enjoying cherry blossom (sakura). Because it matters that when exactly we can have full-bloom sakura, we have such a thing called a sakura forecast map. Kyoto Cherry Blossom Watch is a sakura forecast managed by city of Kyoto (English).
Keep Your Eyes on Sakura Forecast
Cherry blossoms this spring are likely to be blooming earlier than regular years.  It bloomed in Nagasaki on March 20, and bloomed in Tokyo and Fukuoka on 21st. Sakura blooming is slower in northern Tohoku and Hokkaido because the temperature in those area will be remaining low. It will still take a while for those who living up north till they see full-bloom sakura. When sakura season is coming closer, what people talk is 'This winter was a warm winter so we can have ohanami party earlier'. Since sakura flowers only stays for about two weeks, you have to plan well in advance which weekend is the best for ohanami party. The followings are popular spots to see sakura in Kyoto but you can literally find beautiful sakura trees pretty much anywhere in Kyoto – it can be on the hidden narrow streets or at the canal side in the very much local neighborhood. Why not finding your own favourite sakura spots?
 Popular Sakura Spots in Kyoto
Tetsugaku-no-michi(Philosopher's Path)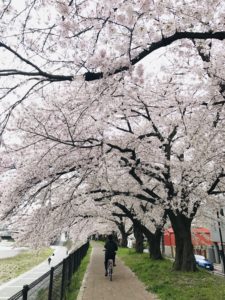 Visit Fushimi Kyoto
Fushimi sake district, of course, has lots of sakura trees. The area does not get too crowded and is more for local residents so there you will find 'real Kyoto'!
Our sake tour is held everyday except Tuesday throughout the year. Join us on a Kyoto Insider Sake Experience tour. You'll get to try and learn about a variety of sake and the secrets of sake and Japanese culture!