Where is Fushimi Sake District?
Fushimi Sake District is located in the south of Kyoto City. Fushimi is famous for its thriving sake industry, beautiful canal and historical sites. Fushimi would appeal to those visitors who have already seen the "sights" and wish to explore a little deeper into a quieter, less crowded, neighborhood Kyoto. It's easily accessible from both Kyoto station and Gion Kyoto city center. It's a great place just to get lost without following a map among historic Japanese street far from crowds.
Feel local people's real lives in Fushimi, Kyoto
Learn the history of Fushimi as a river port and what the secrets behind sake from Fushimi
Easy access from both Kyoto station (10-15 min) and Gion city center (15-20 min)
Access from Osaka is easy as well – just about 30 min train ride from central Osaka. (Direct express train from Yodoyamashi station, central Osaka to Chushojima station, Fushimi Kyoto )
Introducing Fushimi District, Kyoto
Sake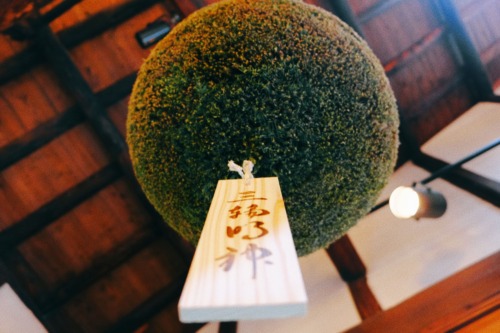 We say "great sake exists where there is great water". This is an expression of the fact that the brewing water has a large impact on the quality of sake. The main ingredients of sake are rice, rice malt, and water. The brewing water, which is used more than the rice, is an important element in sake brewing. The three major sake brewing regions in Japan are Nada in Hyogo, Saijo in Hiroshima, and Fushimi in Kyoto. All are famous for their abundance of quality water.
The geographical features of Kyoto are a basin with abundant underground water, which has been used to nurture a rich food culture and industry, such as yuba (bean curd) and tofu. Of course, sake brewing is another industry that has flourished because of the use of this rich water. In addition to water, Fushimi's sake brewing and the development of the town have also benefited from the ingenuity of its predecessors, who have adapted to the changes of the times. There are more than 20 sake breweries in Fushimi, including some that have been in business for over 100 years. On your next trip to Kyoto, why not visit one of Fushimi's historic sake breweries?
Water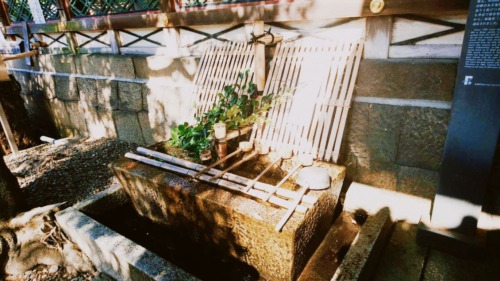 Fushimi's richness in water can be clearly seen when you take a walk around the area. Along the canals of the outer moat of Fushimi Castle, you can enjoy the beautiful cherry blossoms blooming in spring and the changing seasons of fresh greenery and hydrangea.
Fushimi was once known as "Fushimizu," meaning "good quality groundwater. Kyo yasai (Kyoto vegetables) and sake (refined sake) are produced by the high quality water of Fushimi. Fushimi's water (御香水 / Gokosui), which has been selected as one of the 100 best waters in Japan, is moderately hard and contains potassium and calcium. Because the groundwater passes through a layer of granite, minerals are moderately dissolved in the water. The hardness of the water is around 80, which is higher than the soft water generally used for water supply in Japan, and this balance of minerals is the source of the mild and delicious sake brewed here.
Gokosui, a famous water selected as one of the 100 best waters in Japan, gushes out constantly in the precincts of Gokonomiya Shrine (御香宮神社) near Momoyama-Goryomae Station on the Kintetsu Railway line.
History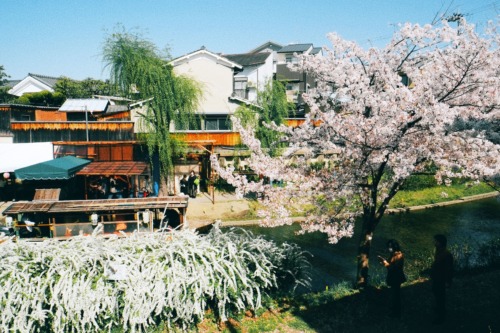 The name "Fushimi" appears many times when looking back on historical events in Japan. In the Warring States period, it was in Fushimi that the warriors fought their battles just before the Battle of Sekigahara. Teradaya, where the so-called "Teradaya Incident." occurred, in which Ryoma Sakamoto escaped from the battle at the end of the Edo period, was also located in Fushimi and was the site of the Battle of Toba-Fushimi. Today, Fushimi, with its bustling shopping streets and many tourists, is a place where many important historical figures have set foot.
Fushimi Ward, Kyoto, famous for the Fushimi Inari Taisha shrine, is a town with a long history and traditions, whose existence is mentioned in Nihonshoki, Japan's second oldest extant chronicle. The history of sake brewing in Fushimi goes back even further, to the Yayoi period (300 B.C. – 300 A.D.), when rice cultivation began. The Manyoshu (the oldest extant collection of Japanese waka (poetry in Classical Japanese)) records readings of Fushimi's rice paddies and natural beauty, and in the Heian period (794 – 1185 ), the area flourished as a vacation home for emperors and aristocrats. Fushimi had long been an important cultural and political area, and during the Azuchi-Momoyama period (1574-1600), Toyotomi Hideyoshi* built Fushimi Castle and the castle town took shape. During the Edo period (1603-1867), Fushimi continued to develop further as a strategic location for water and land transportation. As the economy grew, sake breweries also prospered. By the Meiji period (1868-1912), the city had established its position as Japan's sake brewing center.
*the second of three samurai warlords from the Nagoya area who worked successfully toward the unification of Japan by force
Where to Visit in Fushimi?
Enjoy Local Food and Drink
Discover Point of Interests
Visit Sake Breweries