Enjoy Restaurant, Renovated from 100-year-old Sake Brewery
If you are looking for a place to have lunch/dinner in Fushimi Sake District, Tsuki no Kurabito is a place to go. It's a restaurant renovated from old sake brewery of Gekkeikan. They have Kyoto style Japanese cousin such as homemade tofu and yuba (tofu skin skimmed from the hot soy milk). Lunch meal set menu has a variety of different Japanese food.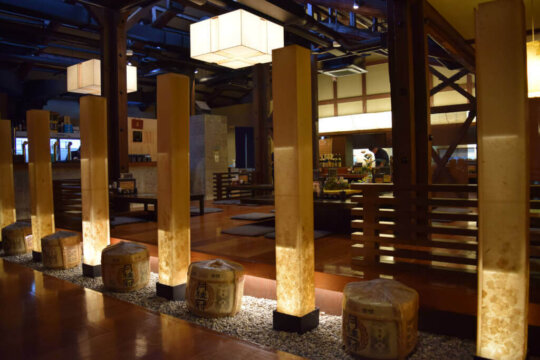 The inside of 100-year-old building is spacious and relaxing atmosphere. It's a great place to take a little break from sightseeing.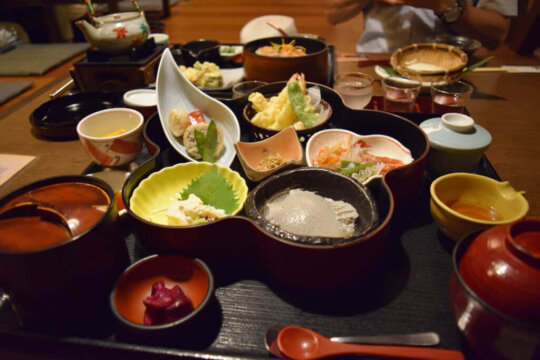 Lunch sent (gozen) comes from around 1500 JPY and with Japanese tapas style. You get to try tempura, tofu, obanzai, Japanese pickles as well as rice and miso soup of course.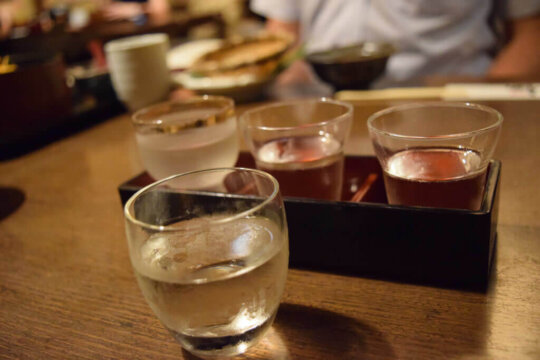 If you are a sake lover, don't miss their sake tasting. Enjoy the little game they offer – Guess the right sake correctly out of 3 different sake, and you'll get this set of sake tasting for free of charge.
Check out their selection of sweets. Great idea to have mochi (rice cake) ice cream for dessert in a hot summer!
【INFORMATION】
Tsuki no Kurabito
・Address:185-1 Kamiaburakakecho, Fushimi-ku, Kyoto
・Tel:(+81)075-623-4630
・English menu available.
Discover More about Fushimi!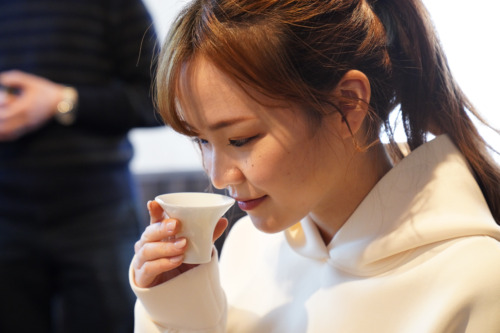 If you have interest in sake experience in Fushimi Kyoto Sake Discrict, or in order to enjoy your trip to Japan more, don't forget to join our tour Kyoto Insider Sake Experience. You will discover more local sakes and learn differences of categories to find your favourite bottle!