Welcome to the World of Sake!
Have you ever ordered a cup of sake in the restaurant? Have you learned about sake? Just as wine culture is widely spread in western countries, sake is inseparable from Japanese food culture.
Sake is an alcoholic beverage made from fermented rice. In Japanese, it is usually called 'nihonshu'(日本酒), because in Japanese, generally, sake can also refer to alcohol itself. In Japan, the habit of drinking sake is widespread and available in most types of restaurants and eateries. And as interest in Japanese cuisine has grown internationally, sake has begun to become a popular drink throughout the world.
The basis for delicious sake is fine rice, clean water, koji mold and yeast. They are combined and fermented in an accurate process that has been refined for centuries. Typically the filtered, resulting clear to slightly yellow rice wine has an alcohol content of about 15%. Sake goes well with almost any kind of food, but in particular it brings out the delicate taste of traditional Japanese food.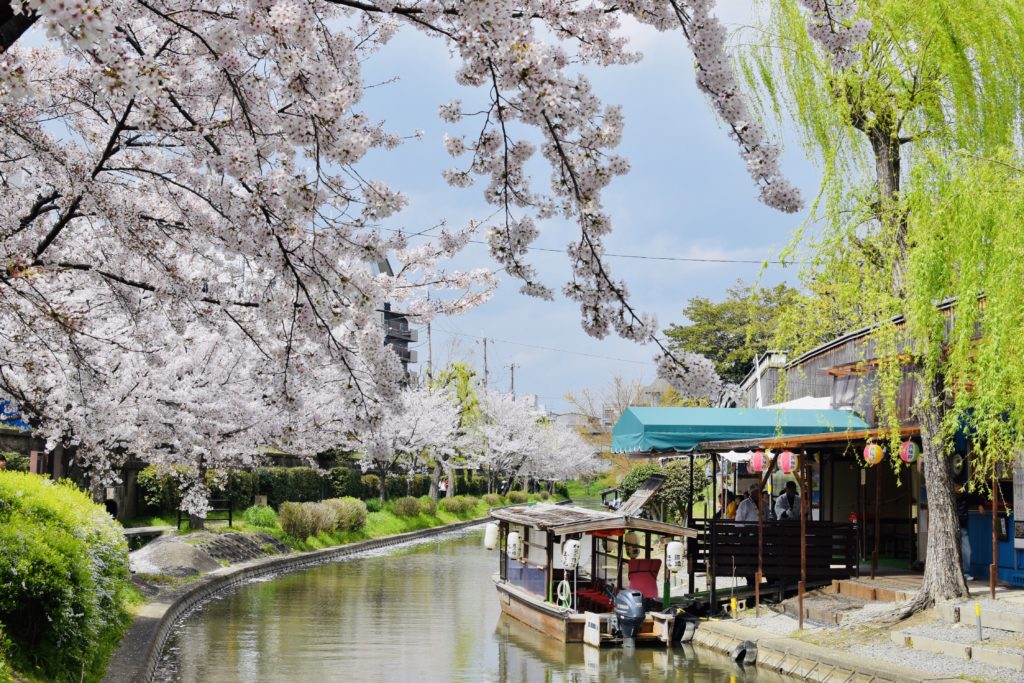 Why You should Join a Sake Tour in Fushimi Kyoto?
The Fushimi District of Kyoto has prospered as a prominent area of sake brewing since the latter half of the 16th century. It was when the area was a renowned castle town within Japan.
People know the area of Fushimi originally as "伏流水", or 'underground water' in English. The area has good quality 'underground water' flows freely and citizens like royals and samurai, as well as the Emperor himself had loved it for over periods.
In such a place, so significant in the history of Japan, Fushimi sake was born. Any attempt to understand Kyoto's incredibly rich culture is best accompanied by a taste of Fushimi's sake – something which will bring history a little closer.
What Kind of Sake Tour is Available in Kyoto?
◆Kyoto Insider Sake Experience
– Tour Option : 3 hours (8500 JPY) or 1.5 hours (6000 JPY)
– Includes carefully selected 10 sake tasting and food for 'food pairing' with sake
– Tour is available everyday except Tuesday
◆Arigato Food Tours
– Tour Option : 3 hours ( 131 USD)
– Includes several sake tasting and lunch
◆WAK JAPAN
– Tour Option : Fushimi Inari and Sake Brewery Tour ( 3.5 hours, 20,088 JPY) or Sake Tasting (45 minutes / 8208 JPY )
*Price for solo participation
*Kinds of sake is not mentioned in the website
◆Kampai Sake Tours
– Tour Option : 3 hours (10000 JPY)
– Includes over 25 cups of sake
◆Magical Trip
– Tour Option : 3 hours (9600 JPY)
– Includes 22 kinds of sake
Let's Find Out What You will Experience in the Sake Tour in Kyoto
Kyoto Insider Sake Experience specializes only in the tours of sake in Kyoto. Sake tastes good without having knowledge but it tastes much better if you have a better understanding of sake varieties and sake-making process.
Tour Information
Tour & Price :
◆ 3 hours – 8500 JPY
◆ 1.5 hours – 6000 JPY
*1.5 hours tour does not include brewery visit
Available Date & Start Time :
Everyday except Tuesday
Starts at 10:00, 13:00, 15:00, 18:30
Please see
booking page
for the real-time availabilities.
Venue :
Fushimi District
in south Kyoto
– 13 min from JR Kyoto Station
– 16 min from Gion-Shijo Station
Here's what you can do by joining the Kyoto Insider Sake Experience.
Insider Sake Brewery Tour
You will visit sake museum/brewery with an English speaking guide and discover the history of sake and the Fushimi Sake District of Kyoto whilst touring a traditional brewer and come to understand the differences in flavour and smell and how these are produced. You'll focus on the secret methods of sake brewing which have been passed down for generations.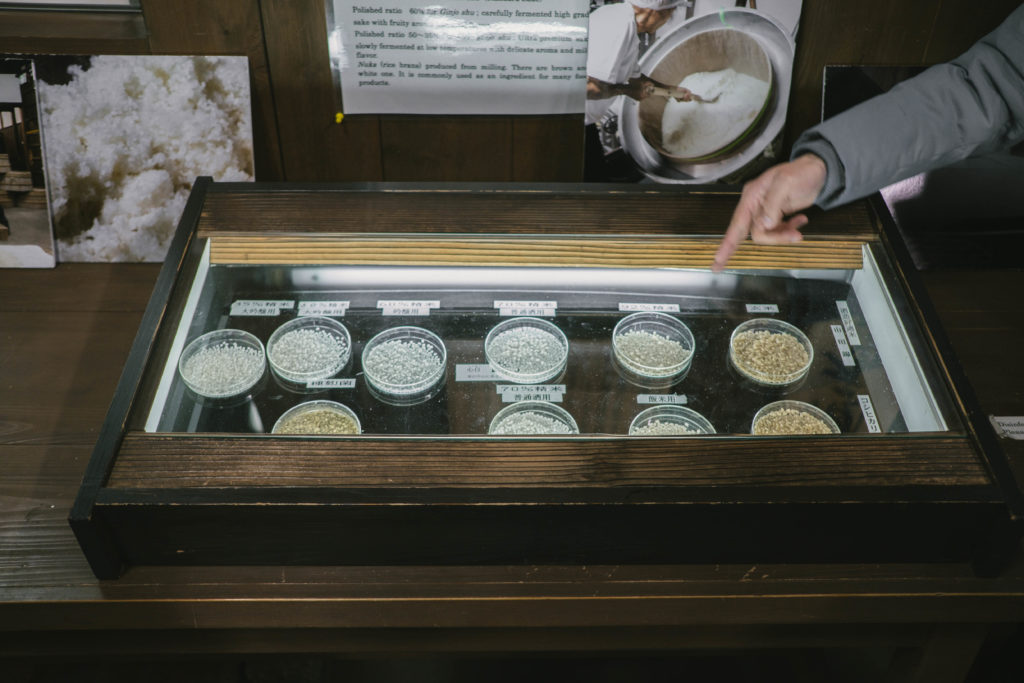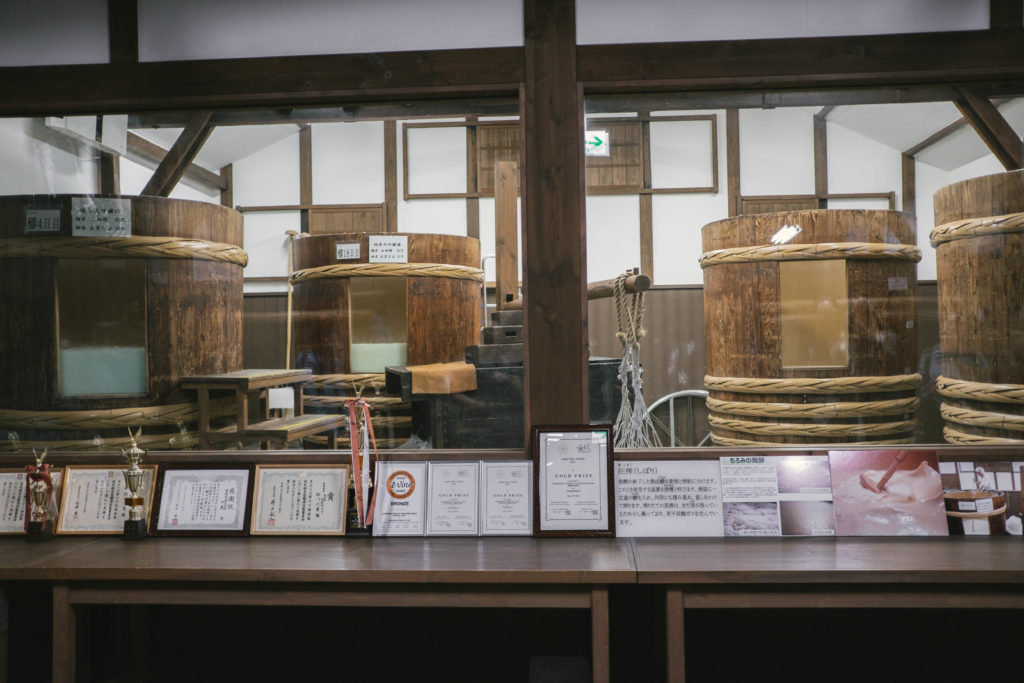 Sake Tasting with an Expert
All sake tastings you get in Kyoto Insider Sake Experience are carefully selected to help better understanding when learning sake. Through our expert-lead tasting session you'll get the chance to learn the unique characteristics of different varieties of sake. Also discover which type you most prefer and how to identify your favourites on menus and bottle labels.
A guide will help you notice the difference in taste between 'junmai' sake (which has no added alcohol or sugar) and alcohol-added sake. Guide will also explain the effects of polishing rice on scent and flavour.
Pure sake, refined sake, cloudy sake, aged sake – we'll help you discover the distinguishing characteristics of each type. You will get a 'cheatsheet' in the tour, which helps you to remember what you learn and to buy a bottle at the sake shop on your own.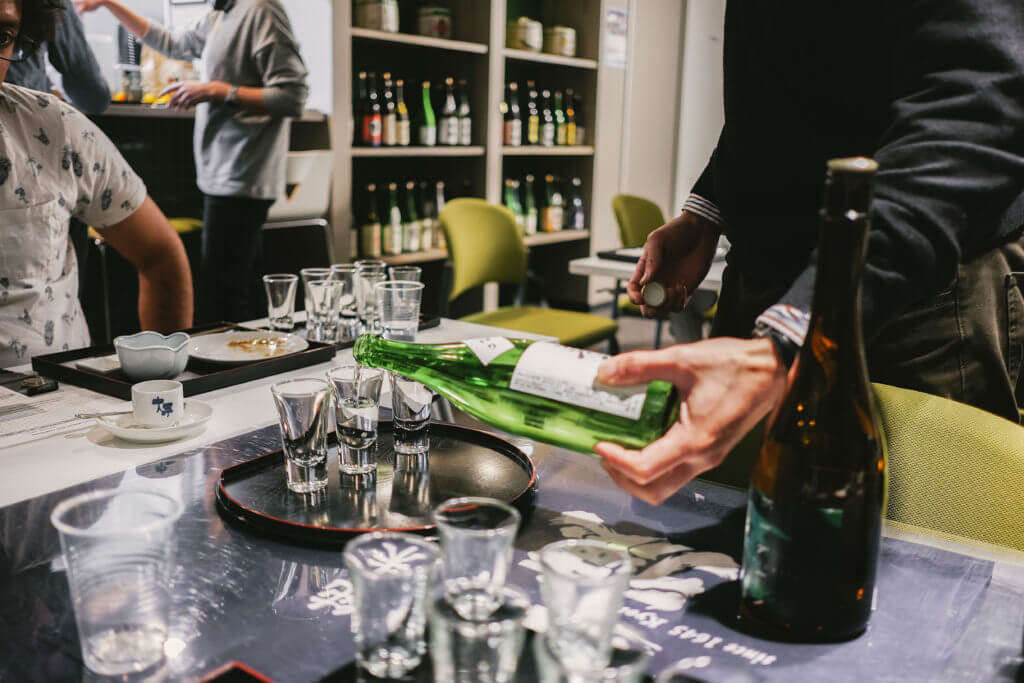 Food Pairing
Many of participants surprise how much food can lift sake – find the way the taste of sake can completely change when paired with different dishes. We hope that the food pairing section of our tour will also allow you to find a little about Japan's food culture, as well as sake.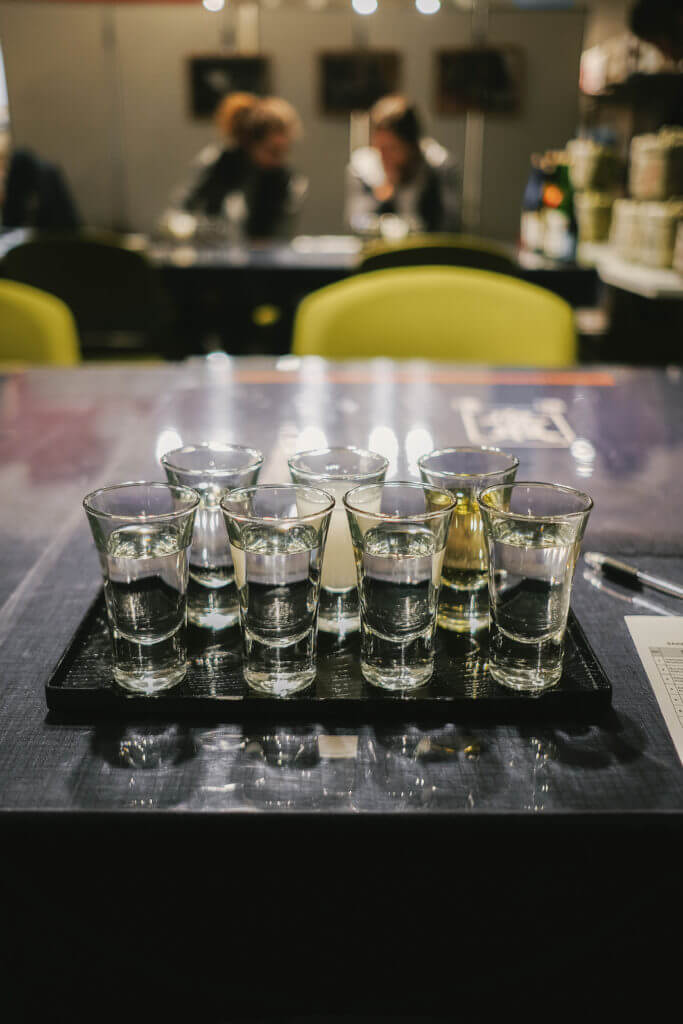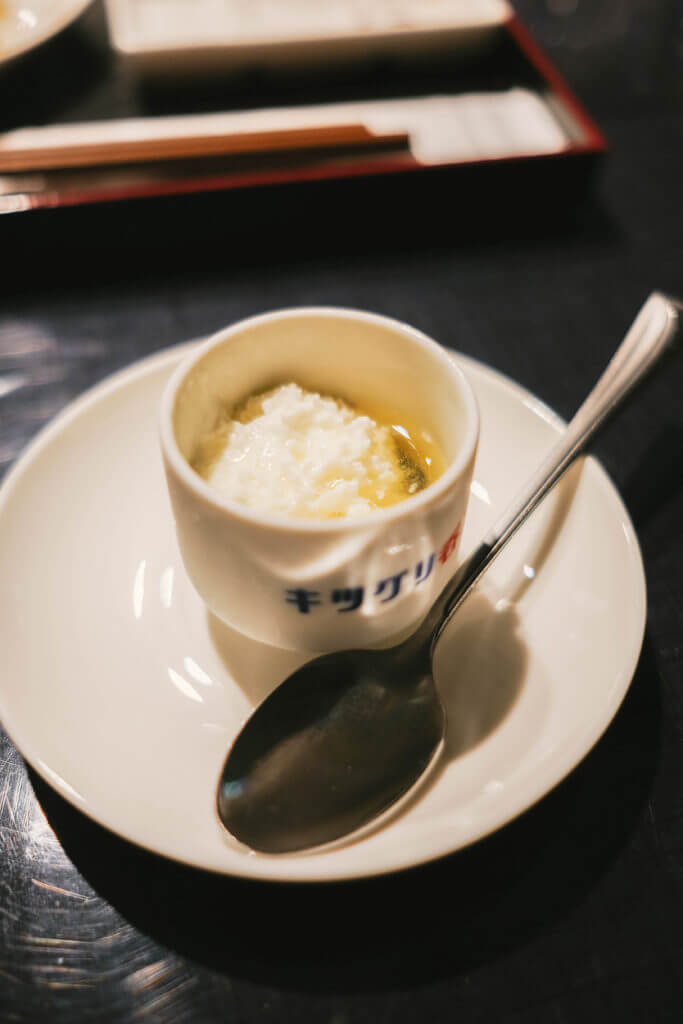 How to Reserve Sake Tour in Kyoto?
If you would like to join Kyoto Insider Sake Experience, simple book from official website.
First choose a date that you want to join then online booking system will show you the available tour.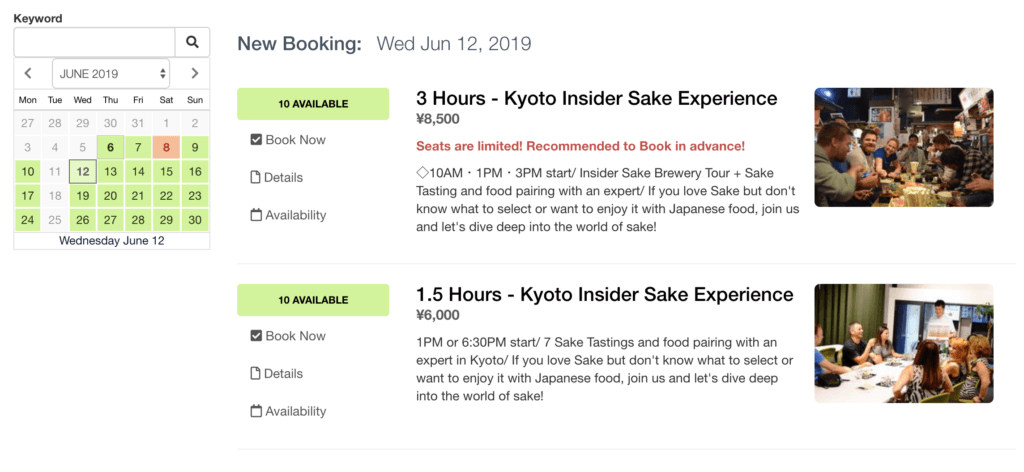 Next select the tour time and number of members then continue to submit booking details.


Once payment is completed, you will receive the confirmation Email. If you do not receive it, contact from here.
We are Sharing What We Love
Kyoto Insider Sake Experience is everyday pursuing what the best way is to get more people to learn basic knowledge of sake in a short tour and become fans of sake. Not to mention getting guests satisfied, what we value in particular is having a good relationship with local shops and sake breweries in the Fushimi area.
We believe what the most important thing for tour hosts is to love the local area than anyone else and be an insider of what you do. Eventually, the love you have is transmitted to the guests who visit the area. We hope that our love in sake and Fushimi Kyoto would help creating more opportunities for many people being fans of Fushimi as well as sake from Kyoto.
Thank you for reading and hope you get a wonderful sake experience in Kyoto!
Photo credit @archela