Story to Know
The Fushimi Sake District of Kyoto has prospered as a prominent area of sake brewing since the latter half of the 16th century. It was when the area was a renowned castle town within Japan.
People know the area of Fushimi originally as "伏流水", or 'underground water' in English. The area has good quality 'underground water' flows freely and citizens like royals and samurai, as well as the Emperor himself had loved it for over periods.
In such a place, so significant in the history of Japan, Fushimi sake was born.
Any attempt to understand Kyoto's incredibly rich culture is best accompanied by a taste of Fushimi's sake – something which will bring history a little closer.
In the below, we'll introduce you to the top four sake varieties in Fushimi. Next time you're in Kyoto, why not stop by and give these a try?
Key Words
Junmai: Sake made up of water, koji mold, yeast and rice which doesn't require milling.
Honjozo: Sake made up of rice, water, koji mold, yeast and a portion of added distilled alcohol. Rice polished 30%, with 70% of each grain remaining.
Junmai Ginjo: Sake made up of water, koji mold, yeast and rice. The rice polished to 40%, with 60% of each grain remaining.
Ginjo: Sake made up of rice, water, koji mold, yeast and a portion of added distilled alcohol and the rice. Polished to 40% with 60% of each grain remaining.
Junmai Daiginjo: Sake made up of water, koji mold, yeast and rice polished to 50%.
Daiginjo: Sake made up of rice, water, koji mold, yeast and a portion of distilled alcohol, with rice polished to 50%.
Nigori: A cloudy sake variety of sake
Iwaimai Junmai Daiginjo Nigori-Zake
With the longest history in Fushimi, the Tsuki no Katsura brand dates back to 1675. Slightly outside the centre of Fushimi, creating history alongside the Kamogawa River. The brewery's representative bottle is their Iwaimai Junmai Daiginjo Nigori-zake. They make sake using rice polished to 50%, and is a Junmai Daiginjo style cloudy sake.
From 19th century onwards, sake brewing (with alcohol) became fully developed. Breweries created mainly clear, transparent sake types. In this era, when clear sake was the mainstream, one brewery – Tokubei Matsuda – took a different path. With the 13th generation head of this family brewery creating an entirely new sake genre: the cloudy 'nigori' sake. The brewery's representative bottle is the successor of this first-ever cloudy sake. It was the 14th generation (and current) brewery owner who achieved it.
This sake, which joined in on the obsession for using sake rice originating from Kyoto, is the brand's most highly ranked nigori sake. With an elegant, refreshing fragrance and flavour, and bottled without heat sterilization, this sake has a fresh, frothy feel.
Each time you sip, the depth of flavour appears to increase, to the point where it's almost a shame to swallow.
When unbolting this sake, it's best to take care that it doesn't spill over. In the olden days, customers used to say 'at your place, the tatami also gets a drink' – which just goes to show this sake's potential to overflow!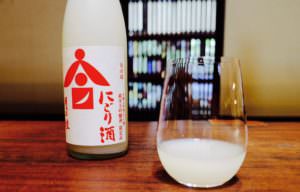 Brand: Tsukinokatsura
Bottle: Iwaimai Junmai Daiginjo Nigori-Zake
Category: Junmai Daiginjo
Polishing Rate: 50%
SMV : +1
Kotosennen Junmai Daiginjo
The second sake we'll introduce is the representative bottle of "Eikun". – a brand loved by countless sake fans as the definitive Kyoto sake, with a brewery located along the Takase River, using 'iwai' rice, originating in Kyoto. The rice is polished to 45%, creating junmai daiginjo sake. Nowadays, only breweries located in Kyoto can get a permission to use this type of rice.
The characteristic, unique aroma created by this rice is used to maximum effect in this bottle. It has an irresistibly refreshing, fruity flavour. A lot of people who drink this sake mention its sweetness – and it's true; you can clearly taste the sweet taste of Fushimi in a bottle of this junmai daiginjo sake.
Eikun's motto is: "Sake should never be the main player. Sake should always play a supporting role, bringing out the flavour of the food it accompanies". – which makes a bottle from Eikun the perfect complement to Kyoto's elegant cuisine.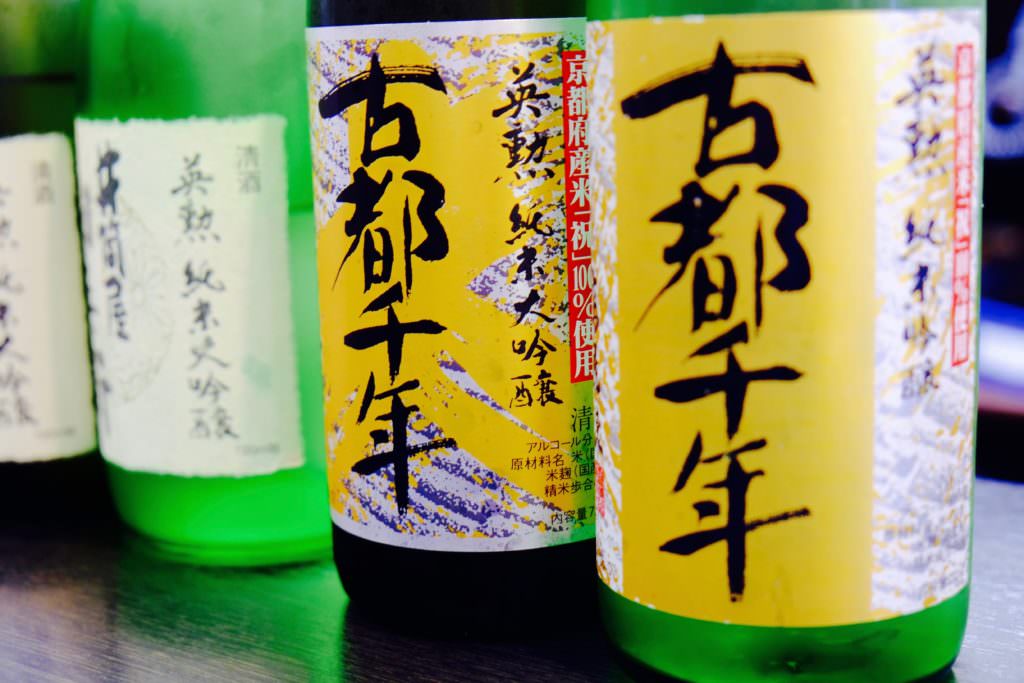 Brand: Eikun
Bottle: Kotosennen Junmai Daiginjo
Category: Junmai Daiginjo
Polishing Rate: 45%
SMV : ±0
Daiginjo Namagenshu
At number three, we have Gekkeikan's Daiginjo Namagenshu. With a long history dating back to 1637 is this area's largest company – Gekkeikan – a world-famous brand name, whose oldest brewery sits right here in Fushimi, Kyoto. Having been the winner of successive gold awards for a number of years, Gekkeikan's makes top-ranking sake only in small quantities.
The brewery's daiginjo sake is bottled unfiltered, with no added water or heat sterilization. Using live yeast and requiring refrigeration, this sake has a short sell-by date, lasting just two weeks after manufacturing. After popping open a bottle, the taste of this sake changes each day, giving evidence to the live yeast within the drink. Unfortunately for those hunting overseas or across the rest of Japan. You can only find this sake only at the Gekkeikan Okura Sake Museum.
The taste of this raw sake differs completely to the sake most people know. Those who drink it for the first time show surprise as its concentration, commenting that this, truly, must be the taste of real Japanese sake.
Made using Japan's representative sake rice – Yamadanishiki and Gohyakumangoku – using rice polished to 50%, and has a deliciously fruity aroma.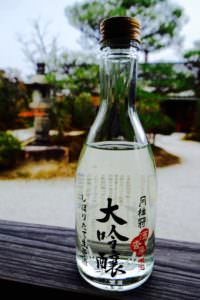 Brand: Gekkeikan
Bottle: Daiginjo Namagenshu
Category: Daiginjo
Polishing Rate: 50%
SMV : +3.5
Junmai Miyamanishiki
One of the more recent additions to the historic area of Fushimi is the small brewery owned by the 'Souku' brand – whose name means 'clear blue sky' in English. As the name suggests, the sake brewed by this brand is very unique, and they create perfectly pure sake. Their representative bottle is the Miyama Nishiki Junmai.
The rice which forms this sake comes from Nagano Prefecture – and has a surprising softness of flavor compared with the typical strong concentration of 'rice wine'. The sense of softness and 'umami' when drinking this sake – that perfection of a flavour so complete there can almost be nothing better – mirrors that feeling of looking up into a perfectly clear, vivid blue sky.
This sake pairs well with all sorts of food, but first give it a try with nothing more than a calm mind as accompaniment.
This is without doubt the sake which'll make you think 'I never knew sake could taste this good'.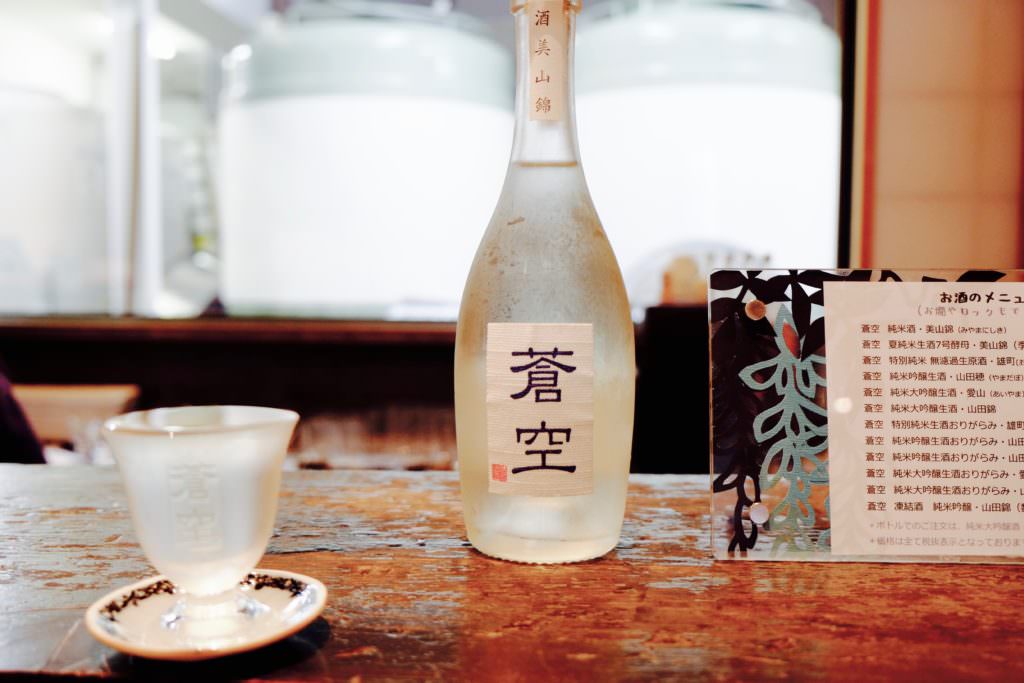 Brand: Souku
Bottle: Junmai Miyamanishiki
Category: Junmai
Polishing Rate: 60%
SMV : ±0
Join Our Tour!
These four bottles make up our favourite sake in Fushimi. There are of course countless other great sake types produced in this area. So we recommend deepening your knowledge and finding the one that best suits you – something which will help you enjoy the taste of Japanese sake even more.
With Kyoto Insider Sake Experience's brewery tours, you can get closer to the secrets of Fushimi and its sake brewing history, whilst enjoying learning about and tasting all the different sake varieties that can be found here.
When visiting Kyoto, you can't miss a sake tour of Fushimi – so why not join us on a hunt for the area's best sake, and find your favourite along the way?