Welcome to the World of Sake
Do you have any idea "How the difference of sake rice affects the taste of sake?"
When choosing wine, people check which kind of grapes are used. However, when you choose sake, have you checked which sake rice is used?
We recently carefully compare different sake rice in our tasting and food pairing training. We will share our understanding of how the difference of sake rice affects the taste of sake.
Rice We Tasted
This time we had five kinds of rice including food rice ;
・Yamada Nishiki (山田錦)
Both the size of grain and starch are large so it is suitable for highly polished rice. Also known as king of sake rice.
・Gohyakumangoku (五百万石)
This is the second famous sake rice. The size of grain is small so it is not suitable for highly polished rice.
・Omachi (雄町)
 This is the oldest sake rice. It has been cultivated since Edo period.
・Iwai (祝)
Kyoto local sake rice. Only Breweries located in Kyoto can use this sake rice.
・Koshihikari (コシヒカリ)
 One of the most famous food rice in Japan.
For bottle selection, we set up two requirements so that we could see the difference among them clearly.
1. Category – Junmai, a pure rice sake
2. Usage of 100% of slected rice.
Sake Tasting
Yamada Nishiki: Rich and fruity.
Gohyakumangoku: Light and had strong flavor.
Oimachi: Rich and had strong flavor. We call the people who love its richness, "Omachist".
Iwai: Light and fruity. It was very easy to drink though it polished to 80%. And the aftertaste was vey refreshing
Koshihikari: It has unique flavor. Some might find it to be too much rice flavored.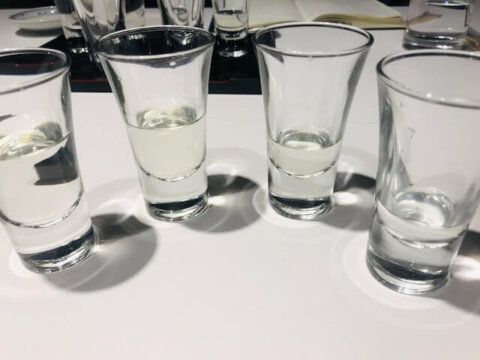 Food Pairing
・Yamada Nishiki
This is like an honor student. It goes well with pretty much any food. However, nothing interesting to discover.
・Gohyakumangoku
Tastes light and goes well with light flavor food such as sushi.
・Otomachi
Tastes rich and goes well with rich flavor food such as grilled chicken skewers.
・Iwai
Because of its refreshing taste, great to drink it after eating rich flavor food.
・Koshihikari
Since it's got strong rice flavor, easier to drink with something weaken its taste.
Having food pairing can be divided into three methods
1. Focusing on Harmony
Those with similar elements are compatible with each other.
Example: Gohyakumangoku goes well with sushi. Omachi goes well with grilled chicken skewers. And Yamada Nishiki goes well with pretty much everything.
2. Focusing on Mariage
When you pair food with a totally different flavor from sake you are having, the combination could be a great surprise.
Example: Koshihikari and (dark) chocolate
3. Focusing on Reseting
When you have food with rich flavor, sake could totally refresh inside the mouth. It will increase your appetite.
Example: Iwai after eating grilled chicken skewers.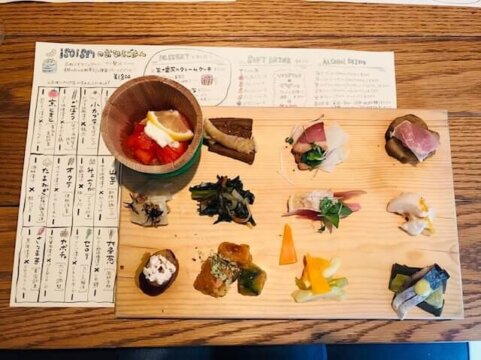 Personally, I love Kyoto local sake rice "iwai". So let's say, I am not "Omachist" but "Iwaist". It is always fun to discover which sake rice you like through sake tasting and food pairing.
Join Our Sake Tour in Kyoto!
When visiting Kyoto, you can't miss a sake tour of Fushimi – so why not join us on a hunt for the area's best sake, and best combination with food pairing session and find your favourite along the way?
With Kyoto Insider Sake Experience's brewery tours, you can get closer to the secrets of Fushimi Kyoto and its sake brewing history, whilst enjoying learning about and tasting all the different sake varieties that can be found here.
Have a nice sake life 🙂
You may also like..