Do You Like Sake to be Hot or Cold?
Sake is good to drink both with cold and hot. When you drink sake hot, it is called 'Kan'.
Drinking temperature also ranges from 5 ° C to 60 ° C over a wide range compared to other alcoholic beverages. Each category of temperature has a name. Regarding hot sake, there are six stages.

Between 30℃ and 40℃, you taste bitterness less and taste more sweetness.
Between 45℃ and 55℃, sake taste more sharp and dry.
How to Make Atsukan?
Here are three ways to make hot sake (atsukan).
1. Put the tokkuri (sake bottle) into the pot with the boiled water. Stop the fire at this moment. Heat it up there for around 2-3 minutes. This is the best way to heat up sake.
2. Heat up sake in the boiling water.
3. Heat up sake up in the microwave. You may better stir it before drinking.
Good Effect of Drinking Hot Sake
Alcohol has a function of cooling the body. It may be good in summer, but when you drink cold alcohol in winter, your body gets cooled down. By drinking hot sake, you can get the effect of preventing alcohol droping your body temperature.
Alcohol is not absorbed into the body unless it gets to a temperature close to the body temperature. When you drink cold sake, absorption begins after it is sufficiently warmed in the stomach. So when you drink cold sake, there is a time lag until you feel tipsy.
In Japan we have a saying that 『親の小言と冷酒は後から効く』 meaning you only realize afterward that what your parents tell you was right and cold sake is actually making you drunk.
On the other hand, alcohol absorption begins sooner when drinking hot sake. So you would feel drunk sooner than when drinking cold sake. This means less chance to get hangover..! If you like to drink a lot or wants to get drunk soon, hot sake can be a good way for that.
Which Sake is Good to Drink with Hot?
① Dry sake
② Rich sake
Example: Junmai, Honjozo and Futsu-shu.
My favorites are Kimoto Junmai or Yamahai Junmai
We tried four different hot sake this time.
① Konteki (Junmai 60%)
Compared to cold sake, its flavor spread into the mouth immediately after drinking and the scent became stronger. We liked cold one to hot one for this sake.
② Rakuden (Junmai 65%)
Compared to cold sake, the flavor spread swiftly, it got easier to drink itself. And the scent became a little stronger. We liked hot one much better for this sake.
③ Iwai (Junmai 80%)
This unique character came from iwai rice still existed thought it was heated up. Iwai is better with cold as its freshness is not killed.
④ Satoru (Food rice Jumai 60%)
Compared to cold sake, sourness from special process and the uniqueness from food rice were reduced and got easier to drink.
⑤ Tomio (Junmai Daiginjo 50%)
Being heated up, its great fruity aroma has gone. There might be nothing good to heat it up.
What We Found about Hot Sake
We found sake with less polished rice is better to drink hot. As Yamadanishiki, the king of sake rice is good for highly polished rice, you may not appreciate hot one with it as much as cold one. Also, sake using Iwai rice has refreshing taste. It's probably better to stick with drinking cold.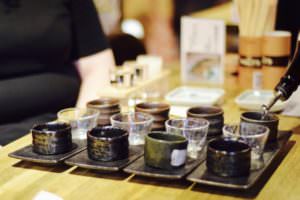 Food Pairing with Hot Sake
① Hot meals ② Richly flavored dishes are well matched with hot sake.
Example: oden, sushi and boiled tofu
Lastly, we would like to introduce you how to make our favorite recipe of "Boiled Tofu" (yudofu)
Ingredients
· soup stock (dashi)
· tofu
· chopped green onion
· soy sauce
· seasoning (shichimi)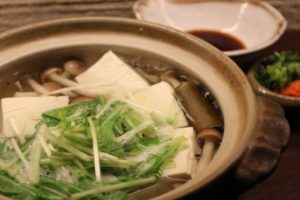 ① Make soup stock just by putting soup stock in hot water.
② Put tofu into boiling soup and warm it firmly.
③ Add chopped green onion, soy sauce and seasoning as much as you like and it is done!!
Kyoto is famous for delicate food such as tofu and vegetable pickles. You must come here to try them with sake.
Bottles Good for Hot Sake, Atstukan
Here are some bottles we would like to recommend for you when making hot sake, atsukan. These are available online and ship anywhere within the U.S. Why not trying some atsukan at home?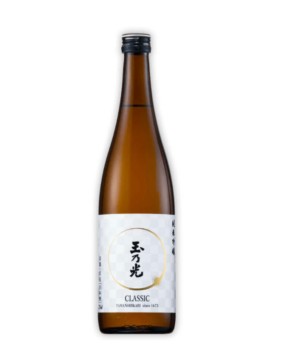 Kyoto Prefecture
The brewers like to release this nigori in February, usually the coldest month where they are, in anticipation of spring. The label reflects both snow and the coming cherry blossoms. The smooth, slightly unrefined texture is reminiscent of snow melting on the tongue. Not an overly sweet nigori but this one is more subtle, and even has a hint of cinnamon spice candy. Goes great with BBQ.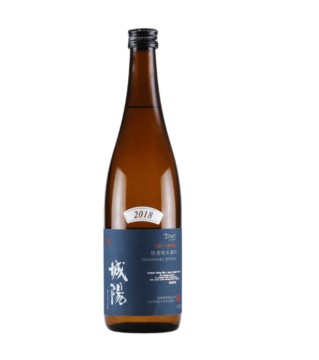 Kyoto Prefecture
This unique, bright sake with a vintage pops in acidity and is to be enjoyed as it matures both in your glass and in the bottle. Still deeply rooted in traditional sake making, it uses 100% of Kyoto's historical sake rice Iwai and their signature soft water. Restrained notes of stone fruit with chestnut and cream spreading on your palate is sure to match any wild food pairing.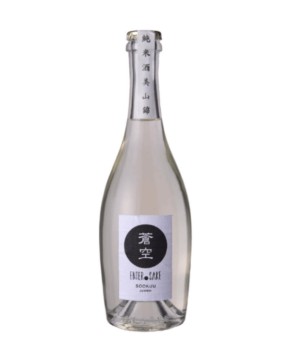 Kyoto Prefecture
This rich, velvety sake with weighty structure is made with water from the historic Fushimi Region and 100% Miyamanishiki sake rice. Try this with heavier dishes as it will envelop deep flavors and reveal even more its silky texture indicative of their pure water. ENTER.Sake is a series of artisanal sake curated by Ritchie Hawtin, a world-famous musician and DJ sharing his love of sake around the world.
Join Our Sake Tasting Tour in Kyoto!
With Kyoto Insider Sake Experience's brewery tours, you can get closer to the secrets of Fushimi Kyoto and its sake brewing history, whilst enjoying learning about and tasting all the different sake varieties that can be found here.
When visiting Kyoto, you can't miss a sake tour of Fushimi – so why not join us on a hunt for the area's best sake, and best combination with food pairing session and find your favourite along the way?
Have a nice sake life 🙂