Did You Know..?
Many craft beer pubs and bars opened this year in Kyoto. It's so worth going not only for tasty beer also for peeking Kyoto's culture as some craft beer places were renovated from 100 year old kyo-machiya (old house). Here we will introduce some of the great places you should go while in Kyoto.
1. Spring valley brewery Kyoto
A restaurant that's near Nishiki market.
Remodeled the 100years old traditional townhouse to a modern Japanese style restaurant.
Fermentation tanks are lined up in the brewery next to this restaurant.
6kinds of classic beer that take pride in brewing and the ingredients, Kyoto exclusive beer and seasonal beer
are available.
They changes the glass and how to pour in the glass depends on the type of the beer you drink.
They serves a dish matches to the beer using ingredient that is produced in Kyoto.
URL / Map
2. Beer Cafe Mugijyun
The first carftbeer's specility shop that opened in Kyoto.
It's a bar that you go up stairs to 2nd floor, there's only counter seats.
The master will accomondate the glass and the condition of the bubble depends on the
character of the beer, using the knowledge that he studied himself.
There's lots of kind of snacks such as assorted snacks, that has a good reputation.
URL / Map
3. salon&bar SAMGHA(Kyoto bozu BAR)
The 100years old townhouse that is remodeled to a bar that is 9min. walk to the west from Karasuma station.
When you open the heavy door that you can't see through, the real Bozu(Buddhist priest) will welcome you in.
The master that has studied as a bartender for 1year, is now an active Buddhist priest.
This bar is not a craft beer speciality bar, but you can have a Japanese craft beer, Japanese wine and
the wiskies from all around the world.
The cheese assort that uses only Japanese cheese is also popular.
URL / Map
4. Beer Komachi
A bar that is at Furukawamachi shopping street near Subway Higashiyama station.
Since it's near Kiyomizu-dera temple, there's lots of hotels and
lots of domestic travelers and travelers from overseas visits this bar.
When you open the vinyl curtain, you'll see the main counter seats and the
little table seats that's fancy.
On the side of the special ordered refrigerator, there's lots of beer faucets are lined up.
There's 7kinds of beer such as light beer, fruity beer and rich tasted beer.
There's also lots of dishes that uses ingredients from Kyoto, such as oraganic Kyoto vegetables.
URL / Map
5. BEER PIB TAKUMIYA
3min. walk from Karasuma-Oike station, there's a marine blue color bar that looks a nice and cool.
There's a counter seats that more than 10people can have a seat, table seat for two and four.
8kinds of craft beer, 9kinds of geness beer is available in draft.
The western and Japanese menu dishes has a good reputation.
Light tasted Oden(Japanese traditional stew) and craft beer is a very good match.
You can have this great matched Oden and craft beers only at beer pub in Japan.
URL / Map
6. Len Kyoto Kawaramchi
Remodeled five-story building that is on Kawaramachi-street, second to fifth floor is a guest room of the guest house.
And on the first floor, there is a front desk/lounge that also opens as a cafe and bar.
This bar has a light-hearted atmosphere and you can have 3kinds of Japanese craft beer.
You also can have a barreled draft beer and 20kinds of bottled beer from all around the world.
Lots of appetizer, snacks and main dish menu, such as steaks, that makes beer more tasty, are also available.
In the daytime, it's opens as a cafe but, you can order some beer, you can visit this
cafe/bar not only nighttime but also in the daytime.
URL / Map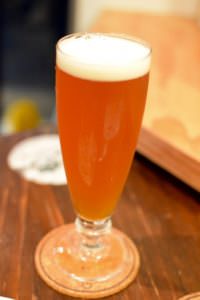 7. Smoked food and local craft beer Wachi
On the drinking district, that is 2min. from Karasuma station there's a pub that anyone can have some craft beer in light hearted.
In the pub that is wide and has a novel atmosphere, the furniture from the old traditional townhouse are used.
You can have Japanese craft beer in draft, and also you can have some bottled craft beer from the countries.
This pub is particular about the smoked foods.
The pleasant aromatic smell from the smoked food matches the beer perfect.
URL / Map
8. PUB Karr
If you enter the street beside the LOFT in Kawaramachi, you'll see the Pub Karr. The pub's interior is based on color white.
And if you want to drink beer from daytime, you can have it over here!!
You can have 7types of draft beer, including the draft beer made in Kyoto. Also, there's some bottled beer from all over the world.
It is a small pub, but you can feel that the pub is particular about the beer.
The recommendation is the prosciutto, that is mild and it matches to the craft-beer made in Japan.
URL / Map
9. Bungalow
10 min. walk toward east from Sijo-Omiya. There is the table seat in 1st floor and 2nd floor.
But in the 1st floor, there's also a standing bar space. At this pub you can have some craft beer. It's cheerful pub that lots of foreign people visits to have some drink. The rare faucet is lined up the we cannot see often. They always have 10kinds of craft beers ready. If the craft beer is sold out, they will exchange to another craft beer. There's a lot of menu that matches to the craft beer. Home made bead and the potato salad is the popular menu in this pub.
URL / Map
10. Gastro Pub Tadg's
3 min. walk from Kyoto Siyakusho Mae station, there is a restaurant that the Irish Chef Mr.Tadge owns.
You can have 8 kinds of draft-beer all around Japan that changes day by day. Seating at the terrace are relaxing and perfect on a sunny day. You can try Irish food there. The most popular dish is of course fish and chips. The gastro pub is open from lunch time till dinner time.
URL / Map
*******
Do you also want to try great local sake produced in Kyoto? Join us on a Kyoto Insider Sake Experience tour. You'll get to try and learn about a variety of sake and the secrets of sake and Kyoto culture!