One of the things you can never miss when you come to Japan – matcha green tea sweets. Matcha has become popular all over the world, but it is still worth trying the real thing in Japan. Kyoto is an area with many matcha spots in particular.
Matcha ice cream, parfaits, drinks, cookies, takoyaki, croquettes, and more…! Kyoto has just about any matcha food you can think of.
In this article, we will introduce some of the most popular matcha spots in Fushimi District, Kyoto. Please use this article as a hint for your trip to find your favorite matcha spot.
AMAZAKE HOUSE – Homemade Matcha Latte & Ice Cream
AMAZAKE HOUSE is a takeaway shop specializing in homemade raw amazake, located on Ryoma Street in Fushimi, Kyoto.
The best item on the matcha menu here is the matcha amazake latte. The ingredients are only organic matcha, single-origin "samidori" green tea, homemade raw amazake, and Japanese soy milk. You can enjoy the true taste of matcha in this creamy latte. Also popular menu is the matcha amazake ice cream, which is also made with made in Kyoto organically grown matcha.
Ryoma street, where this take-out store is located, is lined with other cafes and restaurants run by locals, so enjoy a leisurely stroll around the area while having a cup of matcha latte!
AMAZAKE HOUSE
Opening Hour : 10:00 am – 5:00pm
Closed : Tuesday・Wednesday
Address : 271-1, Kurumamachi, Fushimi, Kyoto 612-8365
Website / Instagram
Saryo Aburacho – Matcha Shaved Ice & Cake and more!
Saryo Aburacho is a cafe ran by a Japanese tea store. Located in the Otemachi shopping street in Fushimi Ward, it is popular among locals. The interior of the store has a vaulted ceiling, allowing sunlight to stream in during the daytime, creating a cozy atmosphere.
The Otemachi shopping arcade is directly connected to Fushimi Momoyama Station, so you will never get lost. The arcade is roofed, so no need to worry about getting wet on a rainy day!
You can try everything from matcha roll cake, matcha porridge, matcha and sweets set menus, matcha parfait, matcha shaved ice, and all sorts of matcha sweets at this store.
Since the cafe is located away from the tourist areas, it is known for those in the know. Just like a Kyoto local, enjoy shopping in the Otemachi shopping arcade or strolling around the Fushimi area, and then stop by this cafe to taste the matcha sweets!
Saryo Aburacho
Opening Hour : 9:00 am – 7:00pm
Address : 779, Higashi Otemachi, Fushimi, Kyoto 612-8053
Website (Japanese)
Vermillion – Cafe. Matcha Ganache

Vermillion Cafe – this cute house cafe is located about a 7-minute walk from Fushimi Inari Station. Right next to the Fushimi Inari Taisha shrine, many customers stop by after visiting the shrine.
With terrace seating surrounded by lush greenery, the atmosphere is one that allows you to forget the hustle and bustle of the tourist area. Freshly ground espresso and coffee are served here, as well as matcha green tea sweets and homemade baked goods.
When you are here, check out their matcha menu, Matcha Ganache. It's a gluten free matcha & white chocolate terrine served cold with a little torii gate on a whipped cream. Using Uji Matcha from a local tea shop, Ohtani Cha-en, rich flavor of matcha & white chocolate instantly melts in your mouth.
Vermillion – Cafe.
Opening Hour : 10:00 am – 4:00pm
Closed : Wednesday
Address : 5-31 Kaidoguchi-cho Fukakusa, Fushimi-ku, Kyoto 612-0805
Website / Instagram
Inari Saryo – Photogenic Matcha Parfait
If you visit Fushimi Inari Taisha Shrine, be sure to visit the new free resting area. Inari Saryo is a recently opened café inside there. It is the newest branch of Tsubakido Tea House, a long-established tea shop that has been serving Fushimi Inari Taisha since the Meiji era (1868-1912).
The most popular item is the "Inari Parfait" with cute decorations such as a red torii gate, a fox, and ears of rice. Not only does it use Tsubakido's matcha green tea, but it also contains sweets made from white rice balls and rice. Enjoy a moment while listening to the birdsong and the murmuring of the river as it flows into Mount Inari, the lush garden, and the pond. You can savor this wonderful Japanese sweet while relaxing by the pond with a great view.
Inari Saryo
Opening Hour : 11:00 am – 4:00pm
Closed : Wednesday
Address : 68 Yabunouchi-cho Fukakusa, Fushimi-ku, Kyoto 612-0805
Website (Japanese) / Instagram
When Visiting Fushimi Kyoto, Don't Miss Our Sake Tasting Tour!
When visiting Kyoto, you can't miss a sake tour of Fushimi – so why not join us on a hunt for the area's best sake, and best combination with food pairing session and find your favourite along the way?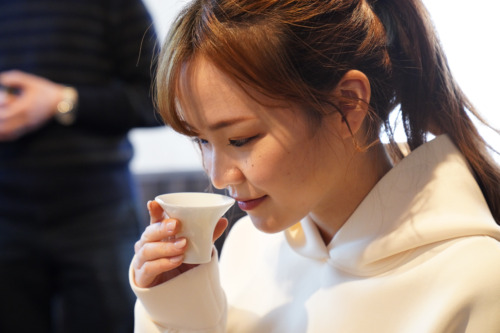 Visiting a bar or sake shop and don't know which sake to buy or taste? Join our Sake Tasting and Pairing Experience!
In this experience, you will learn all the basics about sake and be able to compare different types of sake to find the differences and get to discover how to truly enjoy sake. Joining our sake tasting tour is surely a great introduction to your sake experience. Discover Japan's real sake & food culture and traditions!