Amazake Made in Fushimi, a Sake District in Kyoto
Fushimi, a city of water, sake, and history, is famous as one of the best sake spots in Japan. Then, have you ever heard of amazake? Even those who do not drink alcohol and children can enjoy this non-alcoholic and healthy drink, amazake made only from rice and rice malt.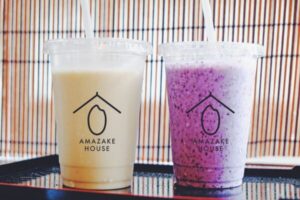 AMAZAKE HOUSE is a takeaway store specializing in homemade fresh amazake located on Ryoma Street, which is becoming a hot gourmet street in Fushimi sake district in Kyoto.
Ryoma Street
The shop's standard menu item is raw amazake (white rice) made with only their original blend of koji and rice grown in Kyoto. This amazake is easy to drink and offers the gentle sweetness of rice.
Another popular item on the menu is brown rice raw amazake made with brown rice koji and brown rice. This one is full of dietary fiber, vitamins, and amino acids with a crunchy texture, and is popular among intestinal activities and health-conscious people.
What is Raw Amazake?
Raw amazake is amazake that has not been heated to a high temperature after fermentation. Because it is not heat-treated, it does not last long, but unlike commercial amazake that has been produced for a long time, you can enjoy the flavor of freshly made amazake. In addition, heat-sensitive nutrients and digestive enzymes are still active.
A Wide Variety of Menu Items Using Fresh Amazake
AMAZAKE HOUSE also offers a wide variety of arranged menus using two types of amazake, white rice and brown rice.
Matcha Amazake Latte
The "SAMIDORI" single-origin organic matcha tea from Wazuka Town, famous for its Uji tea, is used in the menu.

Kinako Amazake Latte
Kinako (soybean flour) amazake latte made with kinako from "Shin-Tanbakuro" black beans produced in Tanba, Kyoto.

Seasonal Menu
Spring
Using Nara brand strawberries "Kotoka".
Kotoka Sweet Sake Smoothie

Summer
Peach Amazake Smoothie
A peach pineapple amazake smoothie made with rare pineapple from Okinawa.
Peach Pineapple Amazake Smoothie

Shiso(perilla leaf) amazake
Plum and perilla leaf soda

Autumn
Apple Amazake Smoothie

Winter
Yuzu Amazake
Amazake Hot Chocolate
Message from AMAZAKE HOUSE
At AMAZAKE HOUSE, we believe that "agricultural products made by passionate producers have a special story behind them. And the taste of food made with passion moves people. That is why we use raw materials that are thoroughly particular about their place of origin, producer, and variety.

By combining ingredients from producers in Kyoto and other regions with AMAZAKE HOUSE's fresh amazake, we create an amazake menu that can only be tasted here. Some products are sold at the AMAZAKE HOUSE online store and shipped frozen nationwide.

Please stop by Ryoma Street and AMAZAKE HOUSE when strolling through Fushimi, a town of water, sake, and historical interest.
AMAZAKE HOUSE
Address : 271-1, Kurumamachi, Fushimi, Kyoto / 京都府京都市伏見区車町271−1
Opening Hour : 10:00 am – 5:00pm
Closed : Tuesday・Wednesday
Website : https://en.amazakehouse.com/
Instagram : https://www.instagram.com/amazake_house/
Join Our Sake Tour in Kyoto!
With Kyoto Insider Sake Experience's brewery tours, you can get closer to the secrets of Fushimi Kyoto and its sake brewing history, whilst enjoying learning about and tasting all the different sake varieties that can be found here.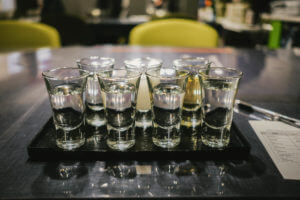 When visiting Kyoto, you can't miss a sake tour of Fushimi – so why not join us on a hunt for the area's best sake, and best combination with food pairing session and find your favourite along the way?
Have a nice sake life 🙂