Discover the History and Highlights of Fushimi Inari Taisha
It is said that there are about 30,000 Inari shrines throughout Japan, known as "Inari-san. The main shrine of the Inari shrines is the Fushimi Inari Taisha in Kyoto. The shrine is famous for its vermilion "Senbon-torii," or "thousand torii," a line of so many torii that it seems to go on forever.
Fushimi Inari Taisha are visited by tourists throughout the year, especially during new year's holidays, when the shrine is crowded with many worshippers.
The origin of Fushimi Inari Taisha dates back to the Nara Period.
The history of Fushimi Inari Taisha is said to have begun on "Hatsuuma Day" in 711, the year after the Heijo-kyo capital was relocated.
When the history of Fushimi Inari Taisha began, it was a time when the whole country was suffering from poor harvests of five grains due to the unseasonable climate. It is said that "Prince Iroko-hata no Kimi" who received an imperial order enshrined the deity Inari on Mt. Inari, and the country prospered with a bountiful harvest.
The name "Inari" is said to have come from the Japanese word "inari," meaning "the rice grows," which in turn means a bountiful harvest. Today, Fushimi Inari-taisha Shrine is believed to be a guardian deity that provides blessings such as prosperous business, a good harvest, and family safety.
Most of Fushimi Inari-taisha was Destroyed by Fire during the Onin War.
In the Heian period (794-1185), the popularity of Fushimi Inari Taisha accelerated. Its rating as a shrine soared, and in 927 it was appointed "Meijin Taisha," the highest ranking of the approximately 3,100 shrines in Japan. Furthermore, in 942, he was given the extreme rank of "Shoichi" (Shoichi rank).
However, the Onin War broke out in 1467, and Kyoto was severely damaged. Fushimi Inari Taisha could not escape the damage. The Shinto priests of the time sided with the eastern army, and a general of the eastern army, Honekawa Doken, approved of using Mt. Inari as a camp. As a result, all the shrine buildings of Fushimi Inari-taisha were burned to the ground.
Fushimi Inari Taisha Overcame Many Difficulties
After the Onin War, Fushimi Inari Taisha suffered no damage, but during the Meiji Restoration, the government confiscated its land. 1868 saw the movement to abolish Buddhism, and the Aizenji Temple, which had administered Fushimi Inari Taisha, was abolished.
Nevertheless, after repeated negotiations with the Meiji government, a portion of the former shrine territory was reclaimed in 1902, and in 1909, the main shrine building of Fushimi Inari Taisha was designated an important cultural property. In 1962, after years of negotiations with the government, the entire original site was restored, and in 2011, the 1,300th anniversary of the Inari Grand Shrine, Fushimi Inari Taisha became one of Kyoto's most popular tourist destinations.
Highlights of Fushimi Inari Taisha Shrine
Fushimi Inari Taisha is now the most popular tourist attraction in Kyoto. There are many important cultural assets and other spots that should not be missed.
Thousand Torii Gates
You cannot miss the "Senbon-torii" (Thousand torii gates). The vermilion torii gates, known as "Inari-nuri," stand in a line that seems to go on forever.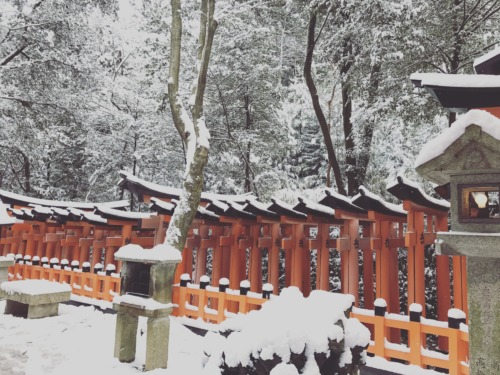 The gate's color is descried 朱色(shuiro) in Japanese. The word "朱" (meaning "red" in Japanese) is derived from the words "red," "bright," and "akane," and is a color that expresses bright hope and the power of life, the earth, and production as the work of the spirit of Inari no Mikoto (the Great God Inari). Once you step inside the Senbon-torii, a world of vermilion spreads out before you.
The rows of torii gates of Fushimi Inari-taisha Shrine have been dedicated by worshippers since the Edo period. In fact, it is said that there are more than 10,000 torii gates dedicated to the shrine as an expression of prayer and gratitude, and the number continues to increase.
Omokararu Ishi
A pair of stone lanterns, called "Omokaruishi," is located just past the Senbon-torii gate. These stones are used to test whether or not one's wishes will be fulfilled.
The weight you feel when you hold the Omokaruseki is the key to predicting whether or not your wish will be fulfilled. It is said that if you lift the head of the stone lantern and it feels lighter than expected, your wish will be granted, and if it feels heavier, your wish will not be granted.
Tower Gate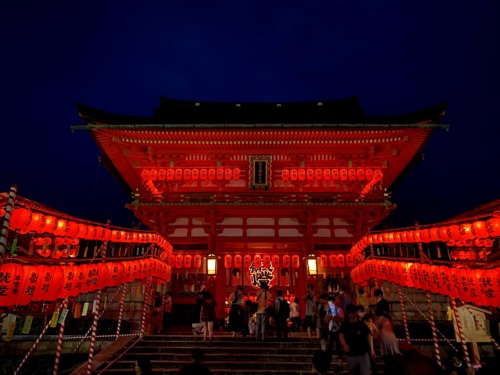 The "Ro-mon" gate, which appears after passing through the torii gate at the entrance to Fushimi Inari Taisha, is said to have been built by Toyotomi Hideyoshi in 1589.
When Hideyoshi's mother, Oomandokoro, became ill, he prayed to Fushimi Inari Taisha. It is said that Hideyoshi built the shrine because he recorded that he would donate 10,000 koku to the shrine if his mother was cured of her illness.
This is the largest and most massive tower gate in the shrine. It is designated as an important cultural property, and a pair of fox statues greet visitors in front of the gate like guardian dogs.
Main Shrine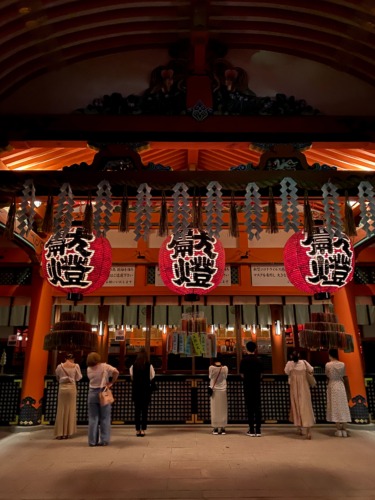 The "main hall" enshrines "Itsuhashira no kami" (five gods), who are responsible for a good harvest. It was destroyed by fire during the Onin War, but was rebuilt in 1499. The main hall of Fushimi Inari-taisha, a large building for a shrine, is a gorgeous structure with the spirit of the Azuchi-Momoyama period. Like the Senbon-torii gate, it is designated as an important cultural property.
Info
Fushimi Inari-taisha Shrine
Access: A short walk from Inari Station on JR Nara Line / Fushimi Inari station on Keihan Line
Address: 68 Fukakusa Yabunouchi-cho, Fushimi-ku, Kyoto-shi, Kyoto 612-0882
Hours of visitation: Open all year round
Admission: Free
Parking : available
Official website:Fushimi Inari-taisha Shrine
Less Touristic Recommended Spots around Fushimi Inari Taisha Shrine
Just going to Fushimi Inari Shrine doesn't mean you know the whole Fushimi area. After visiting Fushimi Inari, take the Keihan Line and go further south of Kyoto and explore deeper Kyoto.
Just 10 minutes by train from Fushimi Inari Station, there is a real Kyoto where non-touristic spots.
Otesuji Shopping Street is located just outside of Fushimi-Momoyama Station. Lots of locals go shopping, eat, and have tea here with friends. It is characterized by its long-established local stores that are now getting difficult to see in touristic area in the center of Kyoto.
Local Cafe & Restaurant
We hope you enjoy to explore real Kyoto while your travel here! If you are interested in joining sake tasting & brewery tour, don't forget to check our tour page.
In our experiences, you will learn all the basics about sake and be able to compare different types of sake to find the differences and get to discover how to truly enjoy sake. Joining our sake tour is surely a great introduction to your sake experience and finding hints of Japanese food culture.