Have Some Cafe Time in Fushimi
Ryoma-dori is a traditionally inspired shopping street in Fushimi Ward, the sake district of Kyoto.
There is a stylish cafe called "Tsuki no Toki" right there on Ryoma-dori street where you can have a break. Why don't you have a relaxing coffee break there before or after you enjoy our sake tour?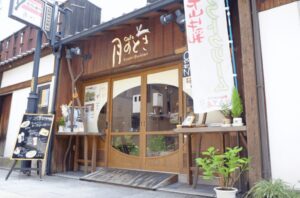 They have a selection of light meals and deserts. They make many tasty dishes using sake kasu, the left overs bits from the fermentation mash or lees, as well as farm fresh locally grown Kyoto vegetables.
Some examples from their menu are "Sake-kasu matcha drink", "Sake-kasu purin" and "Kabocha chiffon cake with Miyama-cha ice cream".
"Sake-kasu matcha drink" is a drink made with sake kasu and matcha which is a special green tea powder. It is a rich green tea flavored milk and sake drink. You will be amazed how well the sake compliments the drink!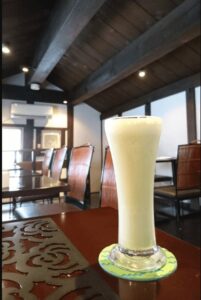 "Sake-kasu purin" is a Japanese sweet pudding made with sake kasu with their special matcha syrup, sake kasu topped with whip cream which makes a wonderfully subtle sake flavored custard.
"Kabocha chiffon cake with Miyama cha" is a pumpkin chiffon cake with Miyama tea ice cream. Miyama cha is a medium grade green tea made in Miyama, a town from the Northern part of Kyoto prefecture. The chiffon cake is light and fluffy with the subdued natural sweetness from the pumpkin. We are sure you will enjoy the ice cream as well!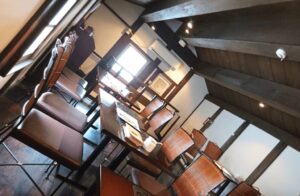 If you are interested in getting the scoop on how sake was made then and now and want to learn more, please make time join our sake tour, "Kyoto insider Sake experience"!
INFORMATION
Tsuki no Toki Cafe
Address: 108 Nakaaburakake-cho, Fushimi-ku, Kyoto-city, Kyoto, Japan
Tel: (+81) 075-604-6711

Discover More about Fushimi!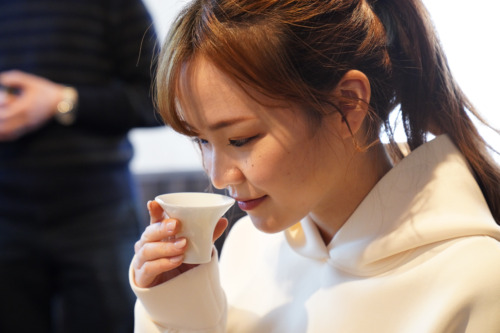 If you have interest in sake experience in Fushimi Kyoto Sake Discrict, or in order to enjoy your trip to Japan more, don't forget to join our tour Kyoto Insider Sake Experience. You will discover more local sakes and learn differences of categories to find your favourite bottle!