In Kyoto you find lots of sushi restaurants and there you see different bottles of sake in the menu. However, have you ever thought of which sake goes well with sushi better?
Here we talk about good relationship between sushi and sake. After reading this article we hope you are able to choose sake that goes the best with sushi.
Before we tell you about recommended sake, why is it said sake is the drink to have when you eat sushi? Sake has the effect of eliminating the fishy odor of fish. The effect of supplementing the defects of ingredients with another ingredient is called "supplementation". In addition, both fish and sake have rich umami ingredients, and by combining these two umami, you get synergistic effect. That is why food and drink with similar flavor goes pretty well.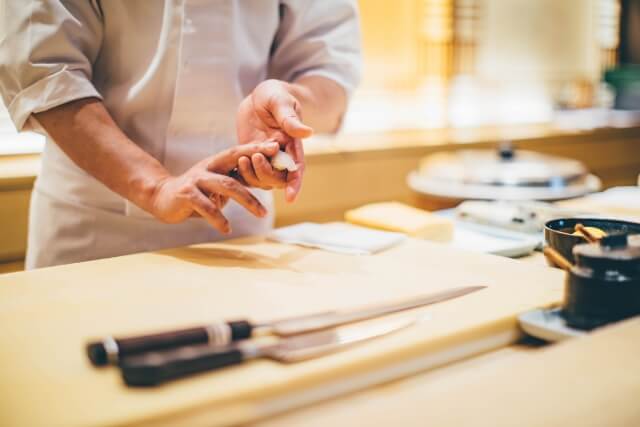 The key is to know whether you want to focus on sushi or sake. Check the polishing rate on the label and if you want to focus on sushi and have sake as a side, pick a bottle polished to about 60% like "Junmai Ginjo" or "Ginjo".
These are perfect sake with fresh food like sushi as its fragrance is not too strong so it won't ruin the delicate flavor of sushi.   e.g. Iwai by Tomio
Conversely, if you are in the mood of enjoying sake and have sushi aside, go for a bottle of sake polished to about 70% like "Jumai" or "Honjozo". These have stronger fragrance and much flavor so you'll get to enjoy 'typical sake' aroma. This is also truly the way to have great pairing of sake and sushi.   e.g. Rakuden, Junmai of Tsukinokatsura, Honjozo by Gekkeikan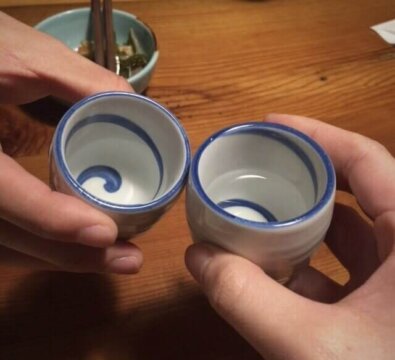 After all, some say "Sweet sake is not good with sushi, dry sake is the best match with sushi", and the others say "Dry sake does not suit sushi". There is no such a thing like 100 % correct answer for this. If there were any best answer, we believe it would be like this ; 'Keep looking for your best.' Different people have different taste. The most fun part is exploring the world of sake until you find your best match. We hope this article will be of any help to that.
[Tips of making sake soy sauce] You may find the flavor of soy sauce that comes with sushi is too strong so it could ruin delicate taste of sushi. Therefore, we recommend making sake sauce. It's just by adding some sake into soy sauce. It thins down the soy sauce but still has nice flavor. Best balance would be sake: soy sauce 3: 1. Adjust according to the concentration of soy sauce and your preference.
With Kyoto Insider Sake Experience's brewery tours, you can get closer to the secrets of Fushimi and its sake brewing history, whilst enjoying learning about and tasting all the different sake varieties that can be found here.
When visiting Kyoto, you can't miss a sake tour of Fushimi – so why not join us on a hunt for the area's best sake, and best combination with food pairing session and find your favourite along the way?