In this article, we will show you the best plan to fully appreciate the Fushimi Sake District after attending the Kyoto Insider Sake Experience in the morning. Check out our suggested plans since we know Fushimi Sake District inside and out!
Best Plan to Spend a Day Like Kyoto Locals and Fully Enjoy Sake Culture!
Join Kyoto Insider Sake Experience from 10am till 1pm
Have Unique Ramen at Fushimi Sakgagura-koji

Walk Along Horikawa River and See the Old Town
Coffee Break at Fushimi Yume Hyakushu Cafe
Taste Freshly Made Sake at Bar En Managed By Fujioka Sake Brewery
Plan Details
Join Kyoto Insider Sake Experience from 10am till 1pm
Kyoto Insider Sake Experience offers multiple sake tours per day. If you are coming to the Fushimi area in the morning, please join the 3-hour tour starting at 10:00 am. The number of participants is relatively small, so it will be easier to ask questions. Check the sake tours.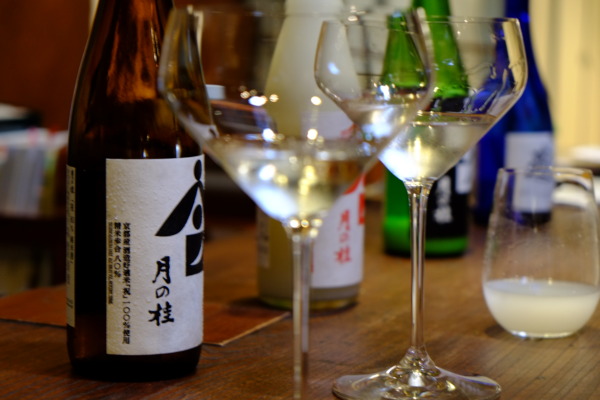 Have Unique Ramen at Fushimi Sakgagura Koji
For lunch after participating in the sake tour, go to Fushimi Sakagura-koji, a popular place for locals and tourists to eat and drink sake.
At the counter of the sake bar, which is over 23 meters long, you can fully enjoy sake made by the 18 breweries of the Fushimi Sake Brewers Association. Although it changes depending on the season, there are always over 120 different brands of sake available.
You can order a small glass of sake (about 70 ml per glass), so you can taste many different brands until you find the one you like, which is definitely an entertaining experience.
There are also several different types of restaurants to offer food and snacks here.
In addition to the authentic Japanese restaurants "Oryori Kitsuya" and "Ramen Mon Ougen," there is also "Fushimizu 89-chome Shokudo" where you can enjoy charcoal-grilled dishes, "Fushimizu Yakitetsu" for Hakata specialties, "Kyomachichaya" for kushikatsu and oden, "Jusen" for okonomiyaki, "Bar Bana" with a variety of à la carte dishes, "Daichan" for sushi, etc. All of them are the kind of food you want to experience when you come to Japan. You can enjoy completely different genres of Japanese food in the single space!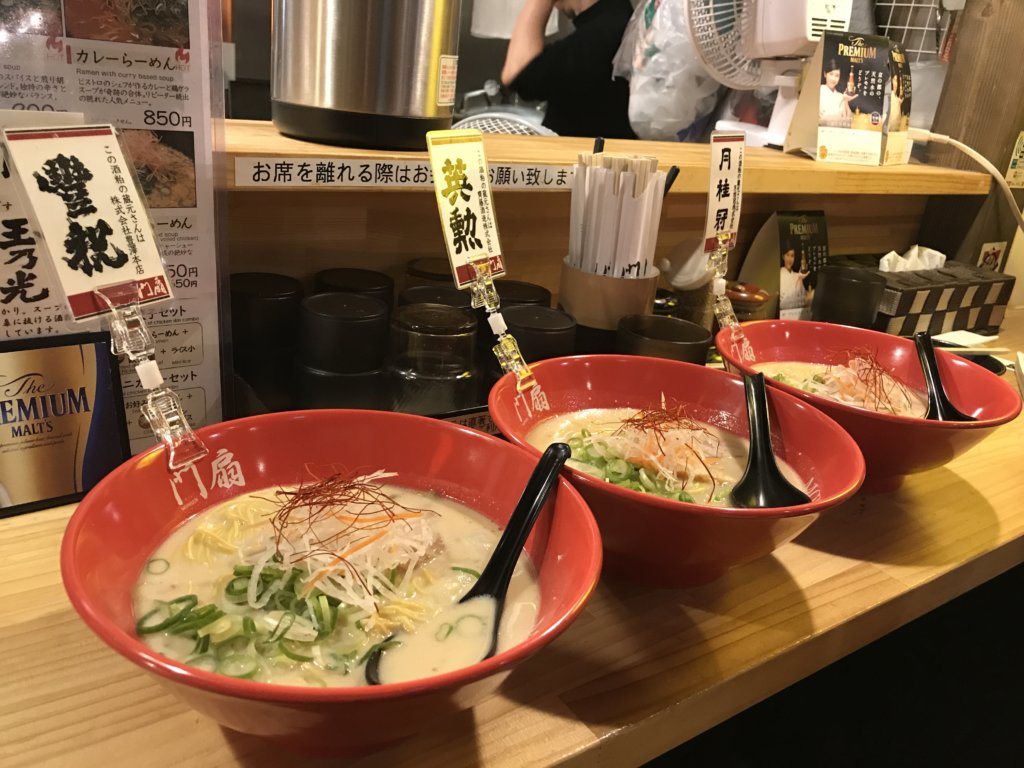 The recommended food here is ramen made with sakekasu (sake lees). This unique sakekasu ramen is available only in a certain number of places in Japan, so be sure to give it a try.
Place Name:Fushimi Sakagura Koji
Address:82 Hirano-cho, Fushimi-ku, Fushimi-ku, Kyoto
Opening Hours:11:30-23:00 *Depends on some stores and days of the week.
Closed: Tuesday
Website : https://fushimi-sakagura-kouji.com/
Walk Along Horikawa River and See the Old Town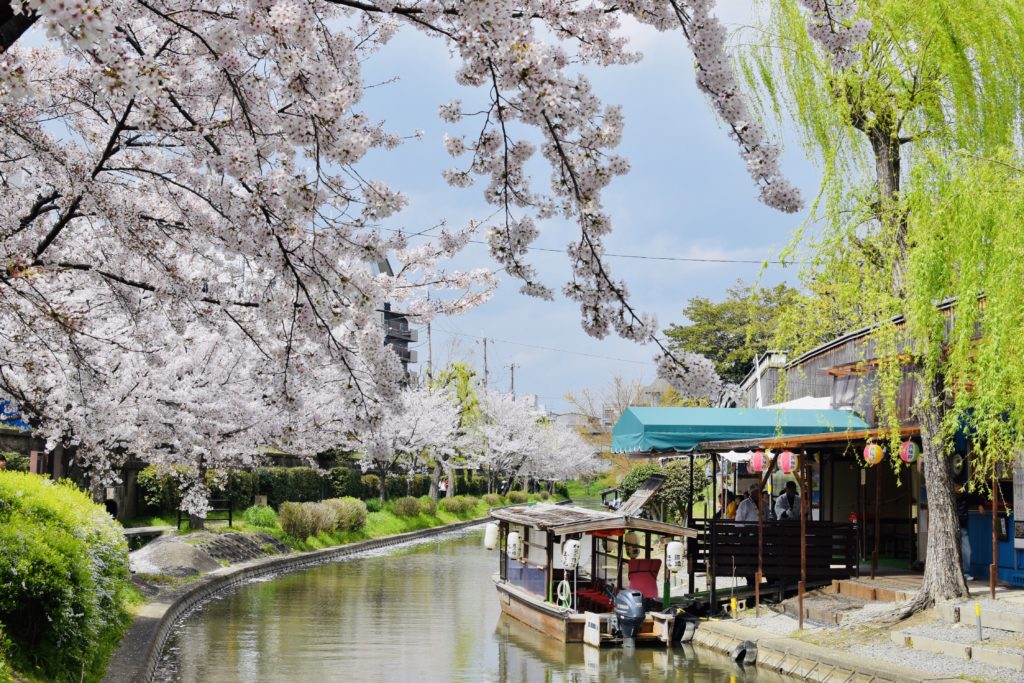 After having lunch, a walk along the Horikawa River is definitely recommended. The Horikawa is a waterway drawn from the Uji River during the construction of Fushimi Castle. Sightseeing boats come and go along the river, and you can even take a ride on one. In the vicinity of the Horikawa River, there is a Teradaya, where Ryoma Sakamoto was attacked, and other historic streets are located in the area.
In the Edo period (1603-1867), the Fushimi area was a prosperous port town on the Yodo River that connected Osaka and Kyoto. At that time, several boat inns like Teradaya used to stand side by side.
The scenery along the Hokawa River during the cherry blossom season is especially wonderful and well worth the visit.
Coffee Break at Fushimi Yume Hyakushu Cafe
When you are tired of walking, stop for a rest with a cup of coffee.
A perfect place to take a break is Fushimi Yumehyakushu, a café that reuses a building built more than 100 years ago as the head office of Gekkeikan Co, now the largest sake brewery in Kyoto.
Along with a store selling souvenirs and other items related to Japanese sake. It also has a coffee shop with a nostalgic atmosphere. The store is lined with sake from 17 breweries in Fushimi and a variety of Fushimi's famous confections, making it hard to decide which to try. The café is a great place to relax and enjoy a cup of coffee dripped with Fushimi's underground water.
Place name: Fushimi Yumehyakushu
Address: 247 Minamihama-cho, Fushimi-ku, Kyoto
Phone number: 075-623-1360
Opening Hours:
[Mon~Fri] 10:30-17:00
[Saturday, Sunday, Holidays] 10:30 – 18:00
Closed: Monday
Taste Freshly Made Sake at Bar En Managed By Fujioka Sake Brewery
The last spot is "Sake Brewery Bar En" where you can have sake while watching sake brewing in progress. This bar is a 5-minute walk from Keihan Fushimi Momoyama Station, and is located in a section of the Fujioka Sake Brewery, a small sake brewery.
The Fujioka Sake Brewery, where Masaaki Fujioka, the fifth-generation brewer, has passionately revived sake brewing, which had ceased to exist. At the on-site bar, visitors can taste "Sokuu," a junmai sake for which Mr. Fujioka handles the entire process by himself. Visitors can watch the brewing process through a glass window and relish the unique atmosphere of the brewery. It is truly a unique feature of this small bar that you can drink sake while observing the sake brewing process.
Place Name: Bar En
Address: 672-1 Imamachi, Fushimi-ku, Kyoto
Business hours: 11:30-18:00
Closed: Wednesday