Gokonomiya-jinjya Shrine
Kyoto, Fushimi is famous for sake producing area. Since it is the output point of the natural spring water, people called this area "Fushimi", where the water comes from.
By using this natural spring water, sake production is still flourishing in this area. Today, we will introduce "Gokonomiya-jinjya Shrine, that has "Gokou-sui"— The natural spring water listed as one on the 100 most excellent natural water resources in Japan.
About Gokonomiya-jinjya Shrine
Local people has known the shrine as "Gokon-san". Though founded year is uncertain, it is said the Emperor Seiwa named the shrine in 862. So, Gokonomiya-jinjya was here in Fushimi for almost 1200 years.
In the grounds of the Gokonomiya-jinjya shrine, there's a gorgeous main shrine(one of the important culture properties) build by Ieyasu Tokugawa. And "Ootemon"(one of the important culture properties) that was build by the old main gate of Fushimi castle that was domated by Yorifusa Tokugawa(The First lord of Mito domain) in 1622. "Warihaiden"(Front shrine–one of the Kyoto's important culture properties) that has a colorful sculptured "Kara hafu"(Chinese styled gable) was also donated by Yorifusa Tokugawa in 1625. In the grounds of Gokonomiya-jinjya shrine, you also can see the stone garden created by Kohori Enshu, the landscape gardener in Edo period.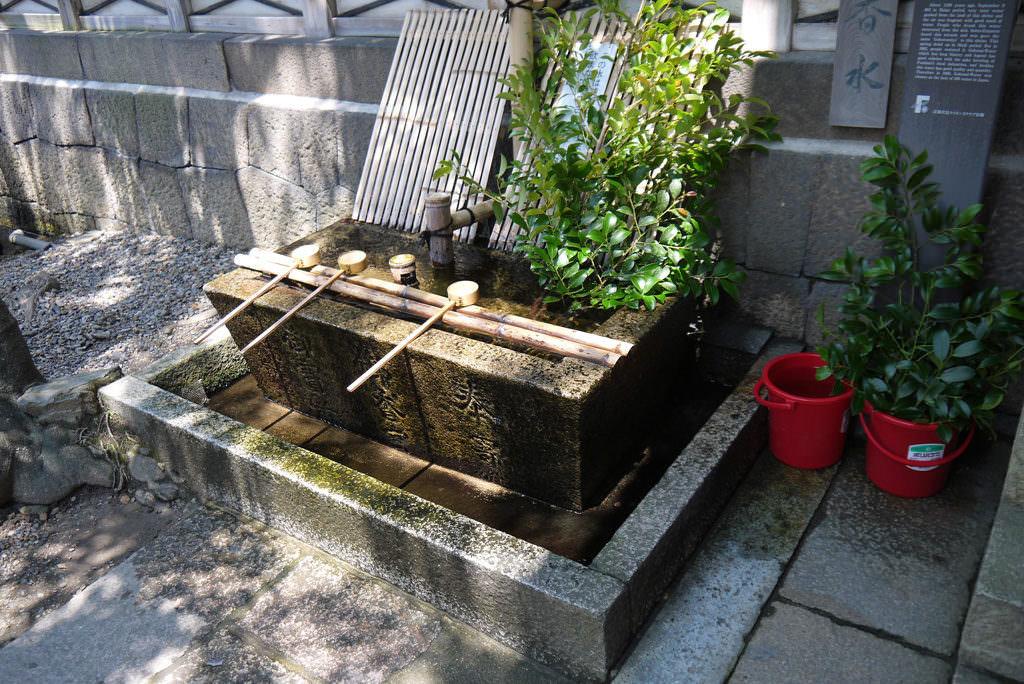 Selected as 100 Exquisite and Well-Conserved Water – "Gokou-sui"
This shrine is famous in "Goko-sui", the famous spring water. Lots of people visits to bring this spring water back home.
In 862, the aromatic water began to gush free in the grounds of the shrine. Local people say that the people who drank this water was cured from the illness. Until then, people called it "Mimoro shrine". But the Emperor Seiwa, who was the Emperor then, named this shrine "Gokonomiya". And named the gushed water from the grounds- "Goko-sui"("Goko" means aromatic). Meaning the spring water in Momoyama area, and Fushimi was named after this "Fushi-mizu–Goko-sui". Still, its water is known as miraculous water, and are used for praying for curing illness. Also it is used for tea ceremony, calligraphy and domestic use. In 1985, "Goko-sui" was certified as a "Selected 100 Exquisite and Well-Conserved Water" by the Environment Agency.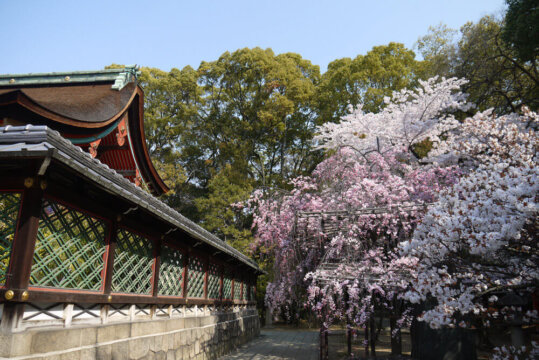 Brings Good Luck on Safe delivery
Lots of people visit its shrine to pray for blessing and good luck on safe delivery. The reason why it is famous in safe delivery is because of the Deity of this shrine. The Deity of the shrine is Empress Jingu. Empress Jingu dispatch troops to South Korea on the last month of pregnancy. After she came back to Japan, she delivered the baby (Emperor Ojin). Because of her strength, she was said that she's the goddess of safe delivery and child raising. And now, Empress Jingu is the deity of the shrine that is known as the good luck on safe delivery/chid raising in Japan.
It is said that water there was used as the newborn baby's first bath when Yorinobu Tokugawa, Yorifusa Tokugawa and Yoshinao Tokkugawa were born. That was also when Tokugawa-Gosanke (Tokugawa head family, Owari-Tokugawa family and Kishu-Tokugawa family) was born.
From these reasons the shrine got famous for the good luck on safe delivery and the child raising.
Lots of the historical persons such as Ieyasu Tokungawa, Hideyosi Toyotomi, Ryoma Sakamoto, the patriots from the end of Edo period came to visit Gokonomiya-jinjya. Why don't you visit here and travel along the historical figure when you visit Fushimi sake district?
++++++++++
・Access
3min. walk from Kintetsu railway Momoyama Goryo-mae station
4min. walk from Keihan railway Fushimi Momoyama station
5min. walk from JR railway Momoyama station
・Address
Monzen-cho Gokougu Fushimi-ku Kyoto-city, Kyoto, Japan
・Admission fee
Free (Stone garden tour 200yen)
・Open time
Free(Shrine office 9:00-16:00)
TEL:075-611-0559
++++++++++++++
Our sake tour is held just a few min away from this beautiful spot. Come and join us then you will find the real Kyoto in Fushimi sake district!