Visiting Breweries in Central Kyoto
As part of our efforts to increase the number of sake fans in Japan and abroad, Kyoto Sake Experience regularly organizes sake brewery tours for our staff to learn more about sake. In the past, we have visited sake breweries in Fushimi and also in Nada, Kobe.
This time, four staff members went to two nearby sake breweries in Kyoto City, Sasaki Shuzo and Matsui Shuzo. Kyoto is famous for its sake production, but in fact, except for Fushimi where there is a high number of breweries, there are only two breweries left in the center of Kyoto. By the way, there were more than 300 sake breweries in the Muromachi period, in the 14th century. These two breweries are Sasaki Shuzo, north of Nijo Castle, and Matsui Shuzo, east of the Kyoto Gosho and across the Kamo River.
Visiting Sasaki Sake Brewery
First, we went to Sasaki Sake Brewery. This brewery is also famous as the family home of actor Kuranosuke Sasaki.
The brewery was founded in 1893, which is relatively new in Kyoto, but it's amazing that it has been in business for 128 years.
Sasaki Shuzo basically doesn't offer tours of its brewery, but it does have a store where you can buy the sake it produces. There is a parking lot where you can park several cars, so you can also go there by car.
By the way, when we visited in December, they were in the midst of sake brewing and were selling freshly pressed sake lees.
They did not have cups for tasting due to the pandemic, so we decided to buy a few bottles of sake and do a tasting later.
As a side note, when I used the restroom in the store, I could see part of the brewery! It was a valuable experience to see the old atmosphere with a sense of history.
Visiting Matsui Sake Brewery
Leaving Sasaki Shuzo, we crossed the Kamo River to the east and went to Matsui Shuzo.
This brewery also has a parking lot where several cars can be parked, so it can be reached by car.
The Matsui Sake Brewery, founded in 1726, is an apartment building with a sake cellar, tasting room, and shopping space on the first floor. Even though it is on the first floor of an apartment building, there is a well, which is essential for a sake brewery, a cedar ball, and thick wooden beams inside, giving the brewery a very nice atmosphere. I found it very interesting as a new type of sake brewery, different from the usual old wooden breweries.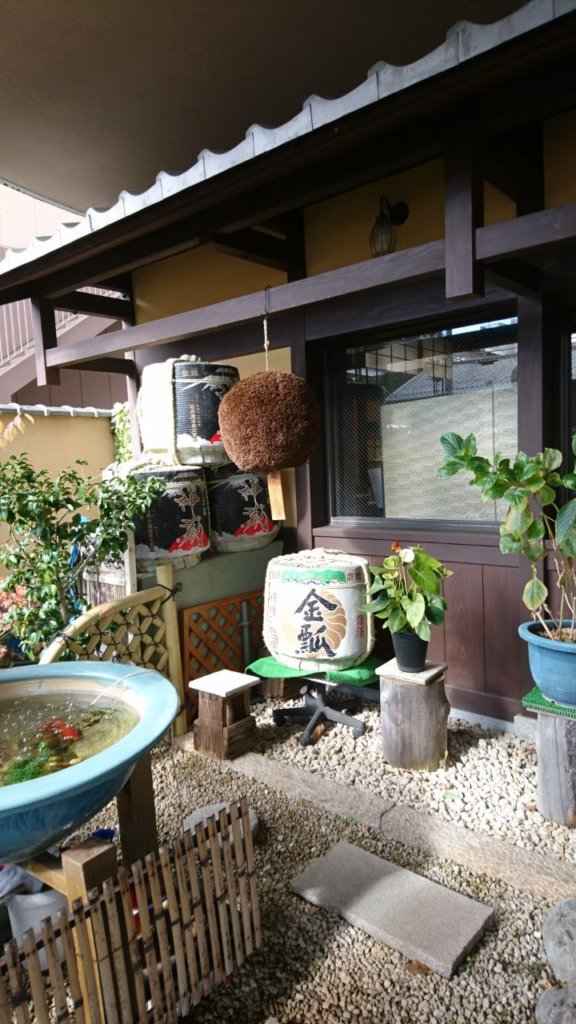 This Matsui Sake Brewery also has a sake tasting area, so we ordered a set of three different kinds of sake to compare, excluding the driver.

We ordered three kinds of sake: Matsui Shuzo's flagship "Kamikura", "Fuji Chitose Shiboritate Nama Genshu", and "Fuji Chitose Junmai Nigorizake".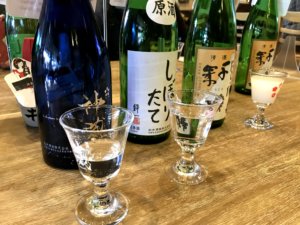 The Kamikura was a junmai-shu that showed the characteristics of Kyoto's sake rice, "Shukyu", and was delicious.

My personal favorite was Fuji Chitose's freshly squeezed raw sake. One of the staff members liked the Nigori sake so much that he bought it later.
Visit Kyoto and Join Our Tour!
This time, we visited Sasaki Shuzo and Matsui Shuzo in the center of Kyoto.
Sasaki Shuzo offers traditional and orthodox sake, while Matsui Shuzo offers traditional sake as well as new age sake.
Matsui Sake Brewery, in particular, has a tasting space and offers tours of the brewery by reservation only (not available during Corona), making it a perfect choice for a sake tour.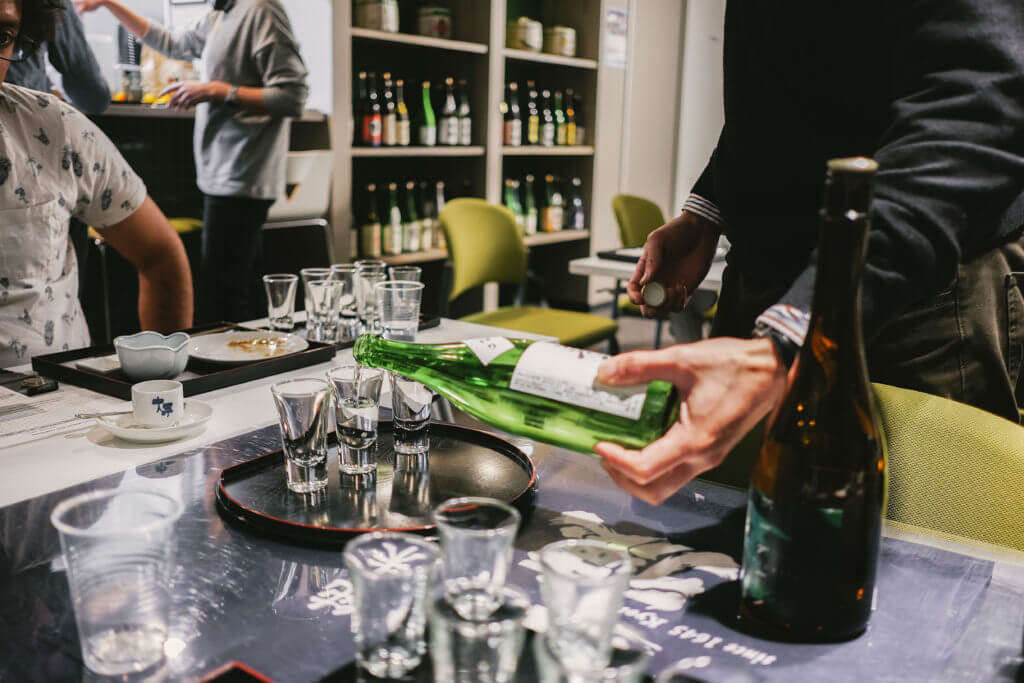 If you go to a sake brewery and don't know which sake to buy or drink, why not join the Kyoto Sake Experience's Sake Tasting and Pairing Experience?
In this experience, you will learn the basics about sake and be able to compare different types of sake to learn the differences and enjoy them. You can then go on a sake brewery tour to enjoy sake even more!
---
Sasaki Shuzo Brewery
Open 10:00~17:00
(Except for Sunday, Holiday, Summer Holiday, End of Year and beginning of year.)

---

Matsui Shuzo Brewery
Shop : Open 9:00~18:00
Tasting Room : Open 11:00~18:00(Last order 17:00)