Enjoy Winter Activities in Japan!
Between December and February, a lot of people come to Japan for winter activities such as ski and snowboard. The most popular destinations for skiing are Hokkaido and Hakuba, Nagano. Many people are probably not aware that you can do ski in Kansai region too.
Kyoto does not have major ski resort but there are quite a few if you look around the Kansai area that you can go for a day trip. Did not bring your own ski wear and boots? Don't worry, each place has rental of everything you need. Here we will introduce some of the popular and accessible ski resort from Kyoto.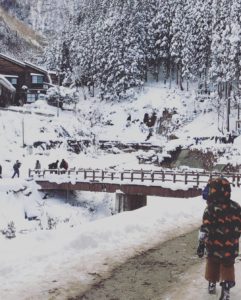 Okuibuki Snow Resort
Okuibuki Snow Resort is in Shiga prefecture. It's only 80 minutes drive away from Kyoto. You can of course go by public transportation. Easiest way may be getting on a tour bus from Kyoto station. It comes with return bus ticket (direct from/to Kyoto station) and ski lift ticket. You can check the details here (only in Japanese).
Okuibuki has the largest trails in Kansai region. You can enjoy maximum 12 excellent trails. Ski lesson is available for different size of groups.
Official website : https://www.okuibuki.co.jp/en/
Biwako Valley
Biwako Valley is in Shiga prefecture, next to Kyoto. We have wrote about Biwa Lake Terrace before in our blog. This place with great view turns into ski resort in winter. Biwako Valley is one of the closest snow mountain you can access from Kyoto in just 40 minutes. Their facility and rental service are pretty good and the most of all, the view of the Lake Biwa from the top of the mountain is magnificent!
Official Website : http://www.biwako-valley.com/en/winter-season-activity/
Rokkosan Snow Park
This is in Hyogo prefecture and you can access by public transportation.Their website shows how to access by public transportation easily. They have ski school for foreign guest and instruct you how to enjoy the snow activities safely to first timers!
Official Website : https://www.rokkosan.com/ski/en/
*******
Do you also want to try great local sake produced in Kyoto while visiting the city? Join us on a Kyoto Insider Sake Experience tour. You'll get to try and learn about a variety of sake and the secrets of sake and Kyoto culture!
[instashow columns="6″ rows="2″ effect="fade" speed="500″]