Rugby World Cup Japan 2019
2019, Rugby World Cup will be in Japan. Rugby World Cup is a rugby world championship game that will be held every four years.
20 teams will Join this championship game, so there will be Pool A to Pool D. During RWC 2019 48 games will be played including the Final match.
This Rugby world cup, which takes place for about seven weeks, is said to be one of the world's three biggest sports events alongside the Summer Olympic Games and the FIFA World Cup.
Details & Schedule
・Pools・
-Pool A … Ireland, Scotland, Japan, Russia, Samoa
-Pool B … New Zealand, South Africa, Italy, Namibia, Canada
-Pool C … England, France, Argentina, USA, Tonga
-Pool D … Australia, Wales, Georgia, Fiji, Uruguay
・Date・
From 20th September to 2nd November 2019 
・Prefecture of the Match venue・
 Hokkaido (Sapporo city) / Iwate (Kamai city) / Saitama (Kumagaya city) / Tokyo (Chofu) / Kanagawa (Yokohama city)
   Shizuoka(Fukuroi city) / Aichi (Toyota city) / Osaka (Higashi Osaka city) / Hyogo (Kobe city) / Fukuoka (Fukuoka city)
   Kumamoto (Kumamoto city) / Oita (Oita city)
・How to buy the tickets・
 You will need to register ID at the website to buy the tickets.
The Rugby World Cup Japan 2019 will be definitely exciting and special festive period. Why don't you visit Japan and watch real exciting games!!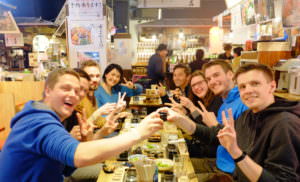 AND don't forget to visit Kyoto while in Japan and join our sake brewery visit & tasting tour! The nearest venue of the rugby world cup will be Osaka and Kobe. It only takes about an hour to come to Kyoto from Osaka and Kobe. You will learn a lot about sake and Japanese culture. We are looking forward to having you in our sake tour 🙂