Did you know
there is such a thing like 'sake train' in Japan? Here we'd like to introduce great sake event in Shiga prefecture, where only 35-45 min train ride from Kyoto Station.
Sake Train by Oumi Railway
Oumi railway in Shiga prefecture has an event "Oumi's local sake train". in winter/early spring.  At this event, you can try sake of11 different brands. Also they prepare some otsumami (snacks) prepare such as oden (Japanese hotchpotch) and small local dishes while you enjoy the ride.
This train will start at Hikone Station or Oumi-Hachiman Station and travels to Yokaichi station and will return to the station you departed at the end.  If you take the regular train to Yokaichi station, it takes about 30 min. But in this event, the train goes very slowly, so it will be about 2 hours ride, including break time.
In the train, there will be a long table and you have to sit in line. On the table, oden, some small dishes from local and 11 cups of sake will be served.  Staff will be walking around to serve 11 brands of sake.  They provide explanatory note of the sakes  to figure out what kind of sake you are drinking. (available in Japanese)
Event Details
From Jan.24, 2019 to Mar.24.2019
Every Thursday, Friday Saturday and Sunday
-4,500yen
What's included
… 10 brands of sake (Junmai) (all you can drink), 2brand of sake (Dai-ginjo) tasting,
Oumi's dishes, Soft drink, One day rail pass of Oumi railway)
-Foods that includes in the fee-
-Oden…Egg, Doikon raddish, red-Konyaku, Konnyaku, Burdock roll, Chikuwa
-Small dishes…Soup stock egg(Dashi roll), shrimp&bean,Ayu(freshwater trout) with Japanese pepper,
mushrooms, Shinoda-maki, Kinpira-gobou(Carrot&burdock), Sukiyaki style, Fried trout
-Option-
-Grilled mackerel sushi…650yen(reservation sale)
Making a Reservation and Other Things to Note
-Call reservation center to the following number to make a reversion or book online 
-Must make a reservation at least 5 days before you ride the train
・0749-24-8103 (Reservation center)
   (10:00-18:00–Mon.-Fri. / 10:00-13:00–Sat.)
-There will be no restroom in the train 
-No-smoking in the train.
-You may not bring some snacks in the train
-If the guests will be less than 20 people, they cancel the event on that day
(You can change the date of the ride)
-If there's an accident, heavy snow etc, they will stop the operation
-they might take some photo for the ads.
Do not forget to check their official website for up-to-dated information.
Check out an article about this Sake Train Event (in Japanese)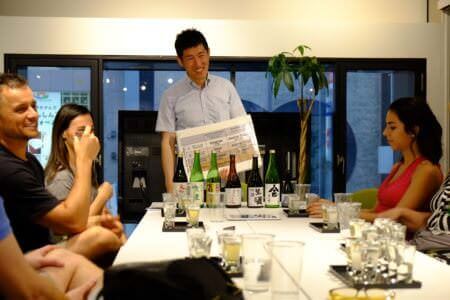 Our sake tour is held everyday except Tuesday throughout the year. Join us on a Kyoto Insider Sake Experience tour. You'll get to try and learn about a variety of sake and the secrets of sake and Japanese culture!