Local Sake Festival in Fushimi Kyoto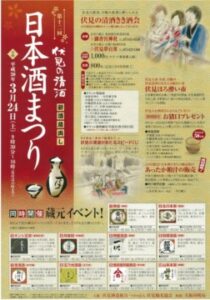 Are you planning to visit Kyoto this spring? Here is something for sake lovers.  Early spring, when cherry blossoms begin to bloom, there is a local sake event "Sake Festival" in Fushimi, Kyoto.  In this event, 10 local sake breweries will open for the first time of the year and offer their new sake of the year. There's also a sake tasting event at sake market.
10 local breweries that is open at this festival is as below.
1. Kizakura
2. Kitagawa honke
3. Kisin Masamune
4. Gekkeikan
5. Saitou Shuzo
6. Shoutoku Shuzo
7. Takara Shuzo
8. Tamanohikari Shuzo
9. Masudatokubei Shouten
10. Yamamoto Honke

What You will Experience

You can visit the brewery that you like. At the brewery there will be a sake that you can taste! Also, there will be some food stands that matches to their sake!!

For example, at Gekkeikan, you can taste "Fresh Daiginjo Namagenshu" and "Daiginjo Iwaimai" .
There will be an oden food stand that's famous for stuffed cabbage.

At Yamamoto honke, you can have "Yakitori(Chicken scewerd)". This brewery owns the famous Yakitori restraurant "Torisei"
They have "Kazujiru(sake lees soup)" that you can only have it on this day.
(Kasujiru is also sold at Kiakura and Tukino Kurabito(restaurant))
You can taste "Shinsei Junmai Daiginjo" at this brewery.

They also plays jazz and there's a market that sells drinking vessels.

At Saito Shuzo, you can see the cedar ball making.

To join this "Fushimi Sake tasting" event, you must buy some ticket in advance by the day before the event. (1,000yen)
The ticket will be sold at Goukounomiya-shrine, Fushimi Yume Hyakushu etc. The full quota will be 800 people.

In this event, you can taste lots of kind of sake and some foods that matches
perfectly to sakes!!

*This information is from 2018. Not yet confirmed for 2019. We will definitely update the information once they confirm the event for this spring!

●Date
-Mid March- (Was held Mar.24 in 2018. 9:30-16:00)
●Place
Fushimi ward, Kyoto-city
*The Fushimi sake tasting event will be held at two places.
1. Gokounomiya-shrine (075-611-0559)
2. Fushimi Yumehyakkei (075-62-1360)
●Ticket fee
1,000yen


+++++
If you want to deepen your knowledge about sake, why don't you join our sake tasting tour,"Kyoto Insider Sake Experience". You will definitely have an idea what exactly you are drinking and also be able to choose your favourite sake at the end of tour!
+++++