Visit a Autumn Leaves Spot Loved by Locals
Dedicated to Tenjin, the god of learning, Kitano Tenmangū is a popular destination for those wishing to pray for success in scholarship and studies. Tenjin was once a man named Sugawara no Michizane who was an accomplished statesmen, poet, and scholar before he fell out of favor and was banished from the capital, dying in obscurity.
Tough Kitano Tenmangu may not be so well known among international tourists, its autumn leaves light-up event is one of the best spots in Kyoto. It is definitely beautiful and not too crowded. Light up event continues until 8th December 2019, closing time is 20:00.
[clink url="https://kyotosakeexperience.com/visit-kyoto-during-beautiful-autumn-leaves-season/"]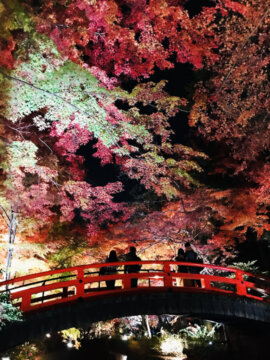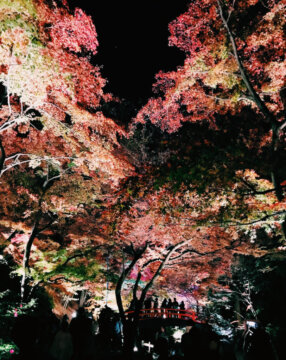 Where is Kitano Tenmangu?
The best way to come here is by a city bus.
Access : Take a City Bus (#5O) or (#101) from JR Kyoto Station; From (#203) Demachiyanagi Station to Kitano Tenmangu-mae
Official Website

Don't Miss Kyoto in Autumn
Autumn is a great time to visit Kyoto – great colorful scenery, delicious seasonal food and drink and lots of fun events.
Our sake tour in Fushimi Sake district in Kyoto is held everyday except Tuesday throughout the year in Kyoto! Join us on a Kyoto Insider Sake Experience tour. You'll get to try and learn about a variety of sake and the secrets of sake and Japanese culture!