Amazake is a Japanese beverage known as sweet sake, and it is packed with vitamins and nutrients. It can be enjoyed hot or cold, all-year-round.
Traditional amazake is made with a fermented combination of koji rice and steamed rice. The recipe is extremely similar to sake, although it is non-alcoholic.
You may think of amazake as a drink in winter, but it is actually a drink that should be enjoyed in summer as well. Amazake is full of nutrients, and drinking it in the summer when your appetite is low can help prevent summer fatigue.
However, if you have only had hot amazake, you may not know how to drink it in the summer. In this article, I will introduce three cool amazake recipes that are recommended for summer.
Why amazake is perfect for preventing summer fatigue
In the heat of summer, it is easy to lose your appetite, and many people suffer from summer fatigue due to lack of nutrition. This can lead to a lack of energy and stamina.
In such cases, amazake is recommended. Amazake is so nutritious that it is called a drip infusion, and the recommended daily intake is about one cup, so it should be easy to drink even in summer when your appetite is down.
The nutritional value of amazake includes glucose for energy, B Vitamins to support metabolism, essential amino acids, and minerals.

When you don't feel like eating because it's too hot, a glass of amazake can help you make up for the lack of nutrients.

3 Recipes – Ways to Drink Amazake in Summer!
Amazake is a drink that can be enjoyed both warm and cold. Here are three recipes that are recommended for summer, and are sure to help you prevent summer fatigue.

Recipe① Amazake Fruit Smoothie
Ingredients
| | |
| --- | --- |
| Amazake | 200 ml |
| Fruit of your choice | as needed |
| Ice cubes | 100 ml |
| Soy Milk | 100 ml |
| | |
Put all the ingredients in a blender. If you are using frozen fruit, you can make it without ice.
Blend until all ingredients are mixed.
When all ingredients are mixed, pour into a glass and serve.
The sweetness of the amazake and fruit itself is enough to give it a sweet taste, but if you feel it is not enough, you can add an appropriate amount of honey.
Recipe② Amazake Fruit Sorbet
Ingredients
| | |
| --- | --- |
| Amazake | 100 ml |
| Fruit of your choice | as needed |
| 1 zippered bag | |
| | |
Put the fruit of your choice into a zippered bag, and squeeze by hand to loosen.
Add the amazake to the bag and squeeze to loosen.
Put the bag in the freezer and leave to cool for 4-5 hours.
When frozen, transfer to a bowl and serve.
If you prefer a sweeter fruit, use strawberries. If you want a more refreshing flavor, use finely chopped lemon peel.

Recipe③ Amazake Fruit Yogurt
Ingredients
| | |
| --- | --- |
| Chilled Amazake | 100 ml |
| Yogurt | 100 g |
| Fruit of your choice | as needed |
| | |
Put the chilled amazake and yogurt in a bowl.Add the fruit to the bowl and serve.
This is a very simple recipe, but it is perfect menu when you have no appetite but still want to take something healthy.
Amazake is not just a nutritious drink but also easy to arrange. Hope you find this recipe useful if you are bored with the normal way of drinking.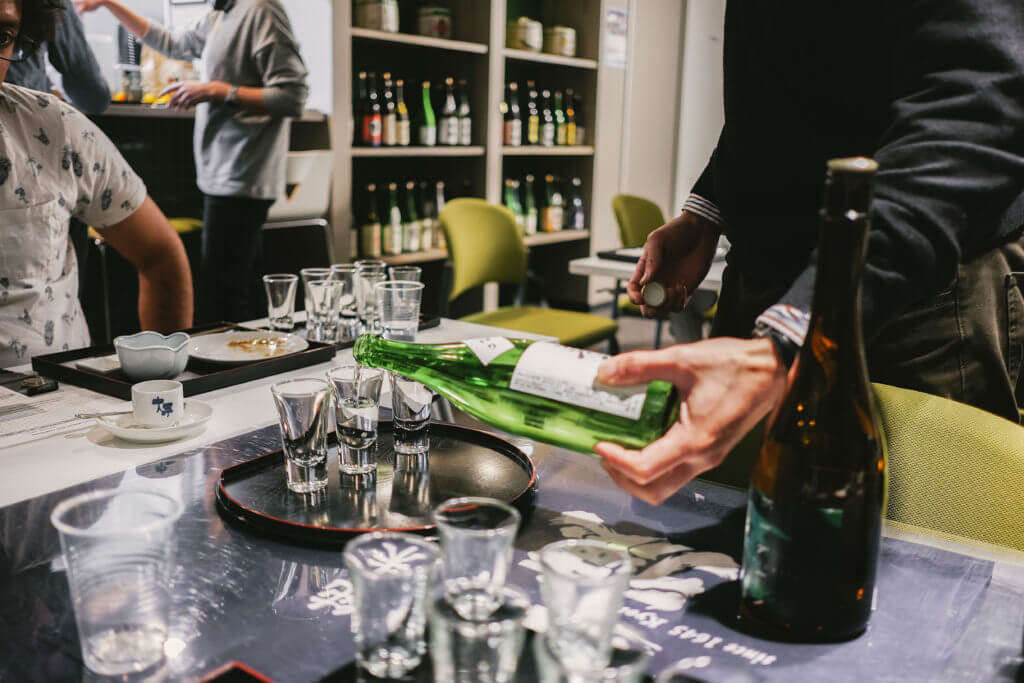 Join Our Sake Tour in Kyoto!
Fushimi in Kyoto the sake capital in Japan. It'ss one of the most famous sake brewing towns throughout the country. If you're ever in Kyoto, join Kyoto NO.1 Sake Tour, Kyoto Insider Sake Experience! Let's experience how to get along well with and enjoy sake!